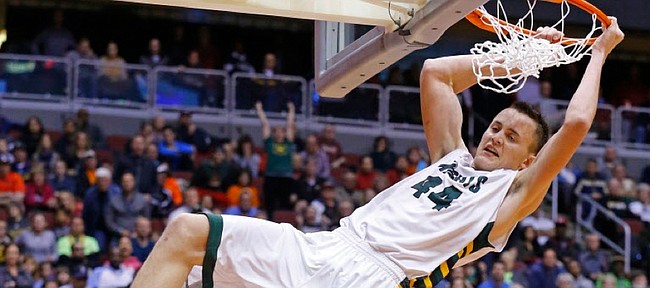 Future Kansas University basketball forward Mitch Lightfoot, a 6-foot-8, 217-pound senior from Gilbert Christian High School in Arizona, has accepted an invitation to play in the Ball is Life All-America game April 30, at Long Beach City College in California.
Other top players who have said they'll be competing include Terrance Ferguson, a 6-6 senior guard from Dallas Advanced Prep who has a final list of KU, Arizona, Baylor, North Carolina, N.C. State and Maryland, plus Arizona signee Rawle Alkins, UCLA signee Lonzo Ball, Baylor signee Mark Vital and Auburn signee Mustapha Heron.
Lightfoot, who is ranked No. 117 nationally in the recruiting Class of 2016 by Rivals.com, recently was named Gatorade Player of the Year in the state of Arizona. He averaged 22.6 points, 11.9 rebounds and 2.6 blocks his senior season for the 21-6 Knights, who lost in the second round of the state tournament after winning it last year.
Lightfoot had 39 points, 14 rebounds and four blocks in a December victory over Laveen Cesar Chavez. He had 29 points and 21 rebounds in a January win over Tempe Marcos deNiza, 30 points in a sectional playoff semifinal win over Seton Catholic and 25 points and 16 rebounds in a 60-57 season-ending playoff loss to Nogales. He scored at least 20 points in 18 games.
"I have known Mitch Lightfoot since his middle school days and am definitely a fan of his, except when he plays against us. We saw a lot of great teams but no player was as valuable and talented as him. I believe what separates him from all the other (Gatorade) candidates is his character and academic focus that makes him a complete student-athlete," Doug D'Amore, head coach at Catalina Foothills High told Gatorade officials.
Gatorade reports that Lightfoot has a 3.73 grade point average, is a volunteer for an assisted living facility and serves as a mentor for students at elementary charter school.
The Ball is Life game will start at 8 p.m., Central time, and be streamed on Youtube.com according to the event's official website.
KU, Hoyas halted series at two: The current four-year series between KU and Georgetown will stop at two games — KU victories in the 2014-15 season in Washington, D.C., and in Allen Fieldhouse in 2013-14.
The news was reported at casualhoya.com on Thursday.
However, it actually turned out to be old news. KU schedule maker Larry Keating said the schools decided to cut the four-year series in half before last season's KU-Georgetown game was contested. Both schools had scheduling conflicts in 2015-16.
Both teams have challenging nonconference schedules in 2016-17. Casualhoya.com reports that the Hoyas have home games against Maryland and UConn and a contest at Syracuse. KU plays Indiana in Honolulu, Duke in New York and likely at Kentucky in a Big 12/SEC Challenge return game. KU also travels to UNLV and plays Nebraska in Allen Fieldhouse. Also the Jayhawks play in the CBE Classic in KC with games against two of these three teams — UAB, Georgia, George Washington.
Embiid update: Former KU center Joel Embiid, who has missed his first two seasons in the NBA with the Philadelphia 76ers because of a pair of surgeries on the navicular bone in Embiid's right foot, has returned from his second rehab in Qatar, philly.com reports.
He went to the Middle East with a doctor, plus the team's head of strength and conditioning and two player development officials.
"It was sort of a smorgasbord of everything you would think," coach Brett Brown told csnphilly.com. "From diet assessment, really planning and talking about food and his diet, the number of meals and portion sizes ... things to do with his foot as far as bone density and massage therapy and expected soreness from time-to-time ... education on his sleep habits, his sleep patterns. On-court work with skill development ... forming a simple but skilled package environment on an actual court.
"Leaving that and going into the weight room, continuing to develop his body. Doing things with just normal plyometrics and stretching so that the flexibility comes back in because he hasn't done too much in a few years. It's not like you're dealing with a conditioned athlete — he hasn't done a lot in the past few years so we're responsible in how we deliver him to those movement aspects of playing basketball again. ... It's very holistic, very smorgasbord-like, all over the place, all designed to his health," Brown added.
The Sixers are hoping Embiid will be at full strength in the 2016-17 season, but have conceded there's no guarantee he'll be able to play.