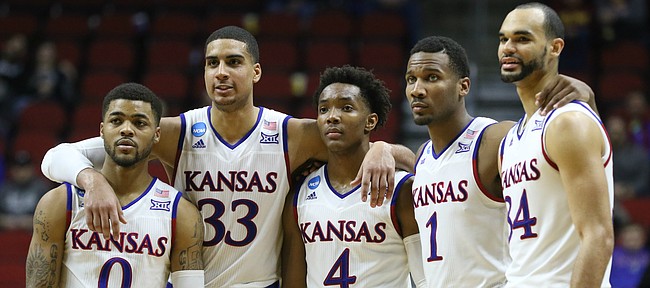 The answer to what happened to Kansas University in the NCAA basketball tournament as in what went wrong elicits a very easy four-word response: Villanova happened, that's what.
The Wildcats are national champions because by the time the tournament rolled around, they were the best team in the country, if only a fraction of a second better than North Carolina, the second-best team in the nation.
The nation's third-best team? The coaches (sports information directors as proxies?) who voted Kansas No. 3 in the USA Today poll released Monday, got it right.
Heading into Monday night's national-title game, North Carolina's closest call came in a 14-point victory over Notre Dame. Other than in a 64-59 survival vs. Kansas, Nova's smallest margin was 19 points vs. Iowa. During their 6-0 title run, the Wildcats won by an average margin of 20.7 points. North Carolina's five victories came by an average margin of 20.3 points.
Villanova overcame the injustice of having a No. 2 seed and playing in the most loaded bracket, proving that in order to win the national title, you have to beat the best.
That doesn't change the injustice of Oklahoma, 44-point loser to Villanova and No. 2 seed in the weak West, having an easier path to the Final Four than Kansas. The Jayhawks would have made it to Houston with a more fair bracket, but there's no denying the right team was crowned champion.
And there is no secret how Villanova, champ of the underrated Big East, pulled it off. The Wildcats played phenomenal defense, particularly in shutting down the opponent's leading scorer.
Perry Ellis averaged 23 points in KU's three tournament victories and scored four points vs. Villanova. What happened from there proved the off night was more about Villanova than about Ellis.
Buddy Hield averaged 29.3 points in Oklahoma's four tourney victories and was held to nine points in the 44-point loss to Villanova.
Brice Johnson averaged 20 points in North Carolina's five NCAA tournament triumphs and scored 14 points against Villanova.
Score another championship for defense.
North Carolina's Marcus Paige, not long after making what will go down as one of the most memorable shots by a player from the losing team in the history of college basketball, gave credit where it belonged.
"They're a terrific defensive team," Paige said. "They challenge every shot. They don't make very many mistakes."
Kansas used a similar formula to go 33-5. Villanova (35-5) was just five points better.