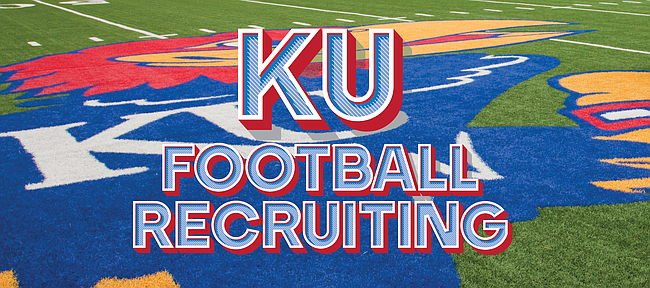 Spring practices may be the main focus for the Kansas University football program at the moment, but the recruiting game is a year-round endeavor.
And on Sunday, second-year KU coach David Beaty learned that Travis Jordan, a 6-foot-1, 185-pound wide receiver/athlete from Louisiana had orally committed to join the Jayhawks.
Jordan becomes the fourth commitment in the 2017 class, joining offensive linemen Jared Hocker (6-4, 291, North Richland Hills, Texas) and Grant Polley (6-5, 275, Denton, Texas) and running back Dom Williams (5-9, 186, Dallas). All four are three-star prospects, which represents notable progress given that KU had just four three-star prospects total in the newly signed 2016 class.
Jordan, a dynamic athlete who hails from John Ehret High in Marrero, Louisiana, represents the first player landed by new KU running backs coach Tony Hull, who coached 2016 signee Tyriek Starks at Warren Easton High in New Orleans.
Jordan was ranked by Rivals.com as one of the "Fab 15" offensive players at a camp in New Orleans earlier this year.
"He did a little bit of everything," wrote Rivals recruiting analyst Woody Womack a month ago after the camp. "During one-on-ones, his focus was on offense and he won several reps while showing a physical side that allowed him to use his size and body to shield defenders from the ball."
Jordan told JayahwkSlant.com's Jon Kirby that Hull's addition to the KU staff made a huge impact in him picking Kansas over Nebraska, Louisiana-Monroe, Colorado State and UT-San Antonio and added that believed more players from his home state could be following him.
"It feels good to know he comes from the same area as me," Jordan said of Hull. "He sees someone like me who wants to make it out. He has made it a good experience and was a big part in me committing. I have a good relationship with him and he showed me a lot of good things on my visit.... It feels great. I have already been talking to some other players about going to Kansas."
While the 2017 recruiting class continues to take shape, Beaty and the current Jayhawks will be back on the practice fields Tuesday for practice No. 10 of 15 this spring.
The Jayhawks held their second scrimmage of the spring over the weekend and will host the annual spring game at 1 p.m. Saturday at Memorial Stadium.