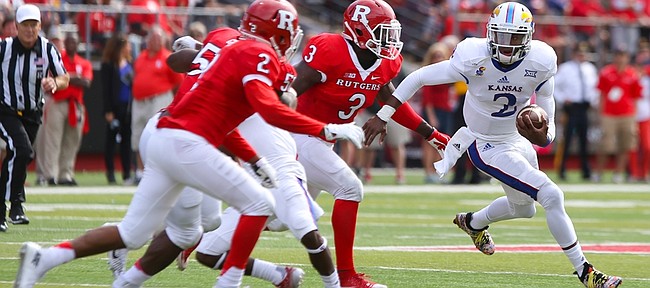 Sniffling and congested but still smiling, as he always seems to be, Kansas University quarterback Montell Cozart met with the media on Tuesday to discuss the Jayhawks' upcoming battle with Iowa State.
First, though, there was that whole issue about last week's showing at Rutgers in which Cozart played in relief but did not start because he was dealing with a 104-degree temperature the night before.
The junior QB hit 10 of his first 11 passes, finished 13 of 18 through the air and threw for 193 yards while leading the Jayhawks on their only two touchdowns of the game.
"I remember saying at the end of the game to Kent (Taylor) or Tre' (Parmalee) or somebody, 'I feel like I was the most relaxed I've ever been in a football game,'" Cozart said. "I guess the sickness (played a part) in that. I felt comfortable knowing exactly what Rutgers was doing on defense and everything was slowing down for me."
Podcast episode
First-year Kansas football head coach David Beaty fields questions from the media before his 0-3 Jayhawks open Big 12 play on the road, at Iowa State. Beaty, who first worked at KU as a wide receivers coach on Mark Mangino's staff, discusses what he learned from the ISU offensive coordinator ...
Because of that, Cozart's comfort and poise allowed Kansas offensive coordinator Rob Likens to call his best game to date with his new quarterback.
The first-year KU coordinator's connection with Cozart has taken some time to build. The usual growing pains that come any time a new coach takes over certainly have shown up at Kansas, with things like terminology, likes and dislikes, a relationship off the field and comfort with the new offense all taking time to develop. But both coach and quarterback believe the bond is strengthening each week, with every rep in practice and each snap on game days, good and bad.
"I saw some things in the game that really got my confidence up in making some calls for him," said Likens before elaborating. "Just quickening up his read into his throw. His drops were good. He wasn't just scanning the field. He knew exactly who to look at, exactly where he wanted to throw the ball off of that particular read off of the defender and that was good."
Cool, calm, confident and effective against Rutgers, Cozart showed the ability to master a limited number of tasks and never looked as if he was being asked to handle too much. Likens said that was by design and added that the Cozart who hit the field last Saturday was the one he wanted to see the rest of the season — a healthier version, of course.
"It is," Likens said. "And the more he (plays like that), it's muscle memory. If you keep trying to put too much stuff in, those are all new experiences and then he's re-learning all over again. So you try to keep it down to where he's not learning too much and he's just getting better at what he's doing and it showed in the game on Saturday."
Cozart said last week's game plan and his preparation helped create the ideal environment. And he's hoping both continue this week, particularly the extra hours he spent in the film room.
To that same end, Likens is hoping his own breakthrough with his new QB continues, as well.
"When I can make it easy on Montell as far as different things to look at pre-snap and things like that, he operates at a very high level," Likens said. "So I put a lot of the onus on myself in that way."
Ford sidelined indefinitely
KU coach David Beaty said junior quarterback Deondre Ford would be out "a little while" because of a thumb injury that knocked him out last week's game at Rutgers in the second quarter.
"I'm not sure how long," Beaty said. "We'll take it week-to-week, but there's no way he's going to be able to go this week. So we've ruled him out for this week. But we'll see how it progresses next week. It was a fairly good shot he took when he hit ground."
Taking another shot
Last week's loss at Rutgers pushed KU's losing streak away from Lawrence to 34 games and thanks to this week's 11 a.m. kickoff at Iowa State, the Jayhawks get an immediate opportunity to snap the annoying skid.
"We always look at a road game as a challenge," Cozart said. "The streak that we keep hearing about, we can't run away from it. It's something that we've gotta take on. So we look forward to road games and we want to go up there and be able to get rid of that streak."
Almost injury free
Outside of the Ford injury and a few bumps and bruises to other players, KU enters its fourth game of the season relatively healthy.
Freshman wide receiver Jeremiah Booker was back on the practice field Tuesday — wearing a red, no-contact jersey — after missing the past several weeks with a collar bone injury.
"We are in pretty good shape," Beaty said. "Our guys have taken care of themselves (and we're) going to have a pretty healthy ballclub going into the (Iowa State) game."