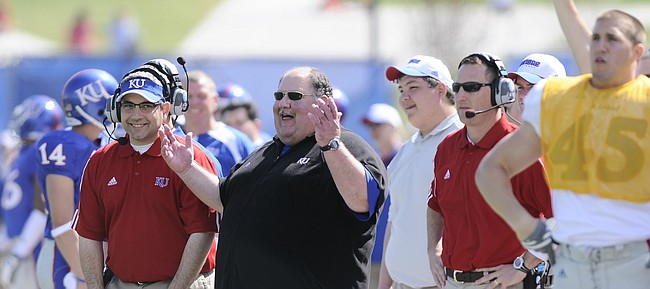 This Saturday, for the second season in a row, Iowa State offensive coordinator Mark Mangino, who spent eight years as the head coach at Kansas University, will look across the sideline and see a man he once hired running the show for the Jayhawks.
In his first season at ISU in 2014, Mangino returned to Lawrence for the first time since being forced to resign following the 2009 season and watched then-interim KU coach Clint Bowen pick up his first victory as a head coach against Mangino's Cyclones.
At 11 a.m. Saturday at Jack Trice Stadium in Ames, Iowa, Mangino will square off against David Beaty, who worked as KU's wide-receivers coach under Mangino in 2008 and 2009.
While last year's reunion drew heavy attention because it marked Mangino's return to the place he led to a 12-1 season in 2008, winning national coach of the year honors and the '08 Orange Bowl title, this year's game, which will kick off Big 12 play for the 0-3 Jayhawks, means just as much to Beaty because of his fondness for his former boss.
"I have a dear spot in my heart for coach Mangino and his family," Beaty said Monday morning. "They are a terrific family, and they gave me an opportunity when I'm not sure I deserved it, to be honest with you. He saw something in me that I'm not sure I had even seen in myself. He made a huge impact in my coaching career, not only as a coach, but as a man, too."
Mangino was known as a disciplinarian who followed a strict routine and left no detail to chance. Many of the staples of his coaching style stuck with Beaty throughout his career, the first-year KU coach said Monday.
"I think one of the big things is he taught me that there is always another level to push to," Beaty recalled. "He always did a great job of guarding against complacency. We paid such attention to detail with everything we did as players and as coaches. He made me a better coach because I really had to focus all day every day on everything to make sure I was efficient for our players and our team."
In the week leading up to his return to Lawrence last November, Mangino met, via a specially organized conference call, with members of the Kansas media and said he was thrilled to return to a place about which he had such great memories but added that his focus was not on Kansas, what he accomplished there or what led to his departure. True to Beaty's words, Mangino spoke then like a coach who did not want anything to distract or take away from his job of trying to lead the Cyclones' offense. An undermanned ISU squad was rocked in that game, 34-14, and Iowa State coach Paul Rhoads said Monday that he hoped Round Two of Mangino V. KU would go much better.
"I hope Mark is focused and ready to lead our offense and have them prepared," Rhoads said. "And, more importantly, to have them execute and perform Saturday morning at 11 o'clock."