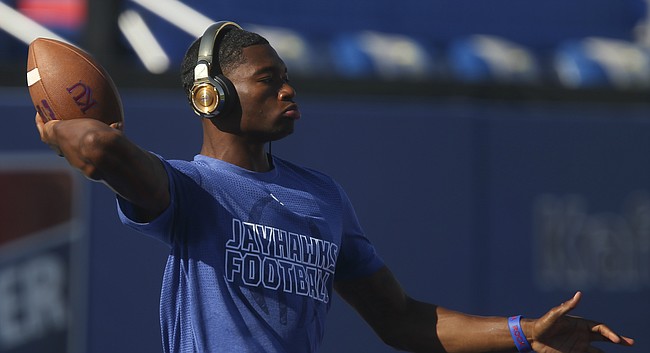 Kansas University football coach David Beaty revealed on Monday morning's Big 12 coaches teleconference that junior quarterback Deondre Ford, who started last week's loss at Rutgers in place of the ailing Montell Cozart, was out for this Saturday's game at Iowa State because of the injured thumb he suffered at Rutgers.
Cozart, who had a temperature of as high as 104 degrees last Friday night, did not start but was forced into action when Ford went down and played well, having what Beaty called one of his most efficient games of his career.
Beaty said Cozart, who earned the No. 1 spot during preseason camp, would start this Saturday's 11 a.m. kickoff at Iowa State, with true freshman Ryan Willis serving as his back-up.
"This week, Deondre Ford's gonna be out," Beaty said. "So we're back to where we finished that (Rutgers) game with Montell starting and then Ryan Willis will be the guy who needs to get ready for the back-up spot. And those guys will continue to compete this week. We're gonna always compete, all the way through the walk-through. They're no different than the rest of our team."
No time frame was given for Ford's return, which, initially, was diagnosed as a sprained thumb.
KU-Baylor set for 11 a.m. kick
The Big 12 Conference announced Monday morning that the Oct. 10 game in Lawrence between Kansas and Baylor would kick off at 11 a.m. and be televised on FOX Sports 1.That will mark three consecutive 11 a.m. kickoffs for Kansas, which started at 11 a.m. (central time) at Rutgers and will kick off at 11 a.m. Saturday in Ames, Iowa.