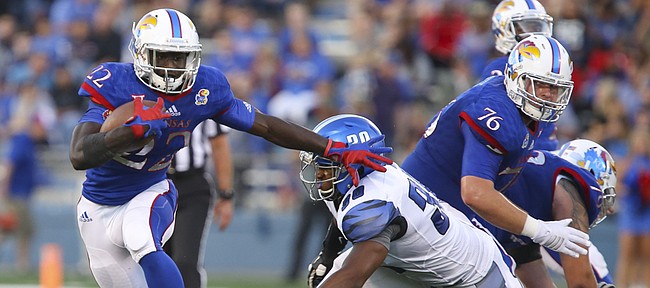 Before Kansas University landed arguably the best player on the 2015 football roster, former KU defensive back Patrick Resby believed so much in the ability of current KU running back Ke'aun (pronounced KEY-on) Kinner that he was not about to leave it to chance that Kinner would be discovered.
"I wanted to help him out because he's a good player, and I wanted to help the program out, too," Resby, now an assistant coach at Navarro Junior College, told the Journal-World in a recent interview. "Whenever you're an alum of any school, you always want to give back to the place that helped you."
Twice last fall, Resby, who played safety at KU from 2007-08, picked up the telephone and reached out to a couple of his former coaches to make sure they knew about the 5-foot-9, 185-pound Kinner, who earned NJAAC offensive player of the year honors in 2014.
The first call went to then-interim coach Clint Bowen.
"When coach Bowen got the interim coaching tag last year, I told him, 'Coach Bowen, we've got a running back that's underrated,'" Resby recalled. "'He's not getting any types of looks, any types of schools (coming after him), and I think you would benefit from him. I think he could come in right now and play a big part in what you guys are doing."
Bowen, at the time busy preparing the Jayhawks for Saturdays and also lining up his own candidacy for the head-coaching job, thanked Resby for the call and filed away Kinner's name for down the road.
A couple of months later, after David Beaty had been hired to lead the Jayhawks, Resby tapped the contacts button on his iPhone and fired a call Beaty's way.
"At that point, the season was over, and still nobody was coming after him," Resby said. "I just wanted Ke'aun to get that opportunity because I knew he could play at that level."
Boy, was he right.
Through two games — both losses — Kinner ranked 12th in the country in rushing yards (270), 13th in yards per game (135), 21st in rushing TDs (three) and 36th in yards per carry (6.3).
Those numbers, especially coming for a program that, in the offseason, installed a completely new offense and features 10 new starters from the end of 2014, would be welcomed on any roster.
But late last fall, without much interest from Div. I schools, Kinner found himself still searching for a place to call home.
Beaty moved fast after learning about Kinner
Said Resby: "They came down here, saw the kid, talked to him, offered him, and the rest is history. It went pretty quick."
Beaty has said that Kinner falling through the cracks and landing at Kansas likely happened because so many Div. I schools did not have a need at Kinner's position.

"I think that might have been (the) deal," Beaty said. "You can't just always take the best player you want. This last year in college football might have been the best year I've seen for running backs since I've been a college coach. There were a ton of great ones throughout the country. They were all over the place. That is not common."
Resby, who coaches Navarro's defensive backs, had a different view on why Kinner did not land in the top tier of backs in the 2015 recruiting class.
"I figure he would've been a bigger recruit if he would've started both years with Navarro instead of having to wait behind another guy," said Resby, referencing Kinner's role as a back-up in 2013. "If he keeps going at the rate he's going now, the sky's the limit for that kid. Who knows what could happen?"
For Kinner, the chance to just play at Kansas — and in the Big 12 — was the best part of all of this. His personal statistics are gravy, and his focus is on doing everything he can to help the Jayhawks win.
After rushing for 157 yards and two touchdowns in his first Div. I game two weeks ago, Kinner shrugged at the numbers and said the loss to South Dakota State meant he should've done more.
"It all goes back to the type of kid he is and his character," Resby said of Kinner's early success. "He's a very humble kid, a good young man, and he works his butt off. He has that work ethic. A lot of these kids these days don't have that kind of work ethic. Or, if they do have it, they don't know how to use it. But he's a little more mature than most 19-year-old kids."
That last part makes Resby smile the most.
"This is my life, man," said the former Jayhawk who left Lawrence with an Orange Bowl champions ring. "This is my career, and I want to still be doing it when I'm 60 years old. I love the kids, I love the game, and the greatest part about this job is you get make a positive impact in the lives of young men who really need it. It's not just about winning ballgames or helping kids get to Div. I or the NFL. It's about growing these kids into mature men."