Kansas University's volleyball team could not have played much better than it did during the 2015 nonconference season.
The No. 17-ranked Jayhawks, who pounded Missouri State (9-4), three sets to none on Saturday night in sold-out Horejsi Center, finished the noncon campaign 12-0, with wins in 36 of 39 sets.
That's right — only Arkansas, Northern Colorado and Gonzaga managed to take a set in matches versus the Jayhawks, who are off to the best start in school history.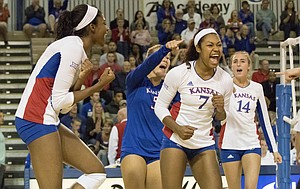 "I mean, it's almost perfect, it's not though," libero Cassie Wait said after registering a match-high 16 digs in a 25-13, 25-14, 25-16 drilling of the Bears. She earned Jayhawk Classic all-tournament-team honors with Kelsie Payne and MVP Tiana Dockery.
"We all agree there were moments this (nonconference) season we weren't quite polished and clean, and I think going into Big 12 play it's so important you have to keep working on those little things, keep improving yourself each and every ball, each and every practice because preparation is the best way to be successful," Wait added.
Yes, but 36 wins in 39 tries classifies as fairly dominant in anybody's stat book.
"I think it was successful," Wait, a junior from Gardner, said. "It's just the beginning. We have so much more we want to do."
The Jayhawks, who played in four tournaments, had four tourney MVPs: Dockery and Wait in home tourneys; Ainise Havili at Arkansas; and Madison Rigdon at Wyoming.
"We are not going to play like our preconference is going to be tougher than our conference schedule," KU coach Ray Bechard said. "We saw some physical teams. We saw some teams that play different ways. Everybody that came out we had success against.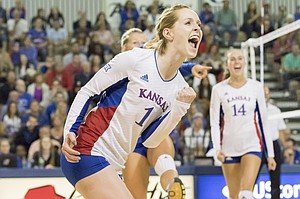 "We won at some good environments, at Wyoming, at Arkansas. We played some good teams here in Duke, Gonzaga, Missouri State. We've seen some quality teams. Whatever style has been thrown at us to this point, we've been OK. Now we've got to ramp it up in some areas, continue to get better."
On Saturday, Payne led the way with 13 kills, while Dockery had 11 and Janae Hall 10. Havili, the country's leader in assists, finished with 41. Anna Church had 10 digs.
"Good I guess," Dockery said of KU's performance out of conference. "It's been a lot of hard work and dedication starting in practice, even outside of the gym building our chemistry. Work ethic on and off the court is something 'Coach B' has been impressing on us."
KU will open Big 12 play against Kansas State at 6:30 p.m. Wednesday in Horejsi.
Notes: Both the band and the KU team sang Happy Birthday to Dockery, a 5-foot-10 senior from Richmond, Texas, who turned 22 Saturday. "Awesome," she said of the MVP award coming on her birthday. "I definitely wouldn't be able to do it without my teammates." ... KU basketball recruits Udoka Azubuike (6-11, Potter's House Christian, Jacksonville, Florida) and Mitch Lightfoot (6-8, Gilbert, Ariz., Christian High) attended and sat with several current KU basketball players. In the third set, a Jayhawk slammed a shot off a Missouri State player that deflected near Azubuike in the stands, winding up in the hands of junior Dwight Coleby. The two high school seniors are in town on official recruiting visits.