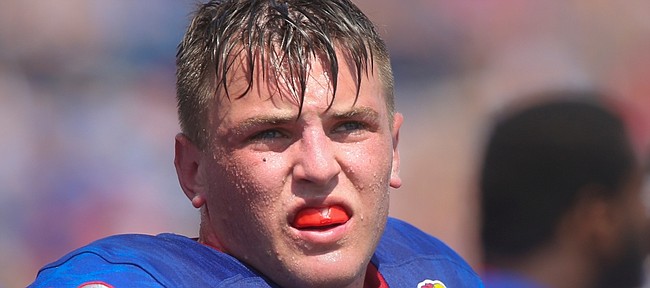 Though obviously essential, preseason football practices can get a bit repetitive. The drills. The heat. The lack of Saturday payoff in the form of a game.
Even Kansas University linebackers coach Kevin Kane, while in the midst of August camp, went as far as to compare it to the Bill Murray movie "Groundhog Day." The players wake up, practice and do it all over again. On repeat.
But sophomore linebacker Joe Dineen Jr. needed the ceaseless preparation. As both Kane and first-year KU head coach David Beaty pointed out before the 2015 season began, the Lawrence native and Free State High product missed spring practices due to a shoulder injury. For Dineen, August had to be spring and fall camps, all rolled into one.
During his first year suiting up for his hometown program, Dineen moved to running back from safety when injuries depleted KU's group of ball carriers. A return to defense under a new head coach along with a move to linebacker provided the 6-foot-2, 212-pound sophomore plenty of incentive to attack his preseason work with intensity. Plus, Kansas lost its top two linebackers from 2014 — Ben Heeney and Jake Love — so the lure of making a real impact felt all the more obtainable for Dineen.
"Any time you're gonna get the opportunity to play, it's really exciting," Dineen said. "But you know you have to come in and work every day. Nothing's handed to you, so you have to show out every day."
Dineen's labor got him on the field for KU's opener against South Dakota State, and he delivered one of the game's biggest hits by pressuring Jackrabbits quarterback Zach Lujan into a third-down incompletion — while cleanly knocking the helmet from the QB's head.
https://www.youtube.com/watch?v=GUJxLlFEgcU
A week later, Dineen started the first game of his career versus Memphis. Through two Kansas losses, the sophomore has four solo tackles and a team-leading two quarterback hurries.
As a local boy, Dineen grew up watching KU football. He can recall 10 years ago sitting in Memorial Stadium and watching Kane and Nick Reid fly around to make plays from the linebacker position.
"They were tough. They played through pain, they played hard," Dineen said of KU's two leading tacklers in 2005. "That's what we want KU football to be again. Just tough, hard-nosed kids that will just outwork everybody."
Now a KU assistant, Kane doesn't always bring up the past. But when Reid visited camp in August and spoke with the Jayhawks, referencing that era — when winning was more common — became obvious.
"I think it's something we still need," Kane said, "and guys are getting day by day that much tougher. When things were rolling here at KU, I think that the linebacker corps has been a huge part of the success, and there's a certain standard and swagger that has been associated with those groups in the past that you want to have."
Kane said finding those types of players is important because sometimes football is more mental than physical.
"If you feel you're gonna be that top dog out there, more times than not you probably will," said Kane, who had 79 total tackles, two interceptions and a touchdown in his senior season. "If you go out there confident, you know what you're doing, have fun, it's gonna carry over."
With Kane (from Rockhurst, in Kansas City, Missouri) and Reid (Derby) both arriving at KU as non-elite recruits from nearby, Dineen sees a blueprint he can easily follow.
"They just came in here with a lot of heart, worked hard and turned the program around," Dineen said. "I think that's what all of us want to do here at KU."