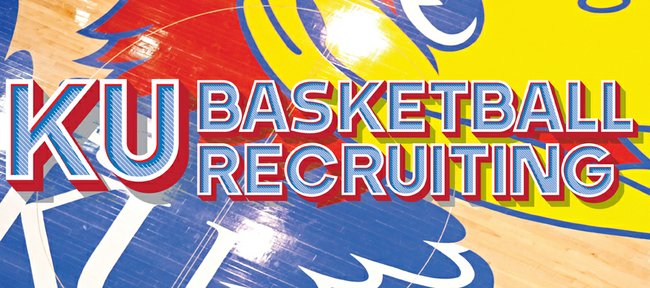 Kansas University's basketball team, which will lose at least three frontcourt players in seniors Perry Ellis, Jamari Traylor and Hunter Mickelson after the 2015-16 season, welcomes a pair of blue-chip high school forwards to campus today for weekend recruiting visits.
They are: Udoka Azubuike, a 6-foot-11, 260-pounder from Potter's House Christian Academy in Jacksonville, Florida, who is ranked No. 27 in the Class of 2016 by Rivals.com, and No. 118-rated Mitch Lightfoot, a 6-8, 210-pounder from Gilbert (Arizona) Christian High.
Azubuike, who is a prime recruiting target of Florida State, also has heard from coaches from Kentucky, Duke, North Carolina, N.C. State, Wake Forest, Cal, Auburn and Florida. He does not have an official list of schools and has yet to set up visits to any school besides KU.
The powerful Azubuike — he's known for his vicious dunks, blocked shots and physical presence down low — was born in Lagos, Nigeria, and grew up in Delta State, Nigeria. A youth soccer standout, he started playing basketball in 2012.
Azubuike was discovered at a Basketball Without Borders clinic by a coach who knows Steven McLaughlin, the coach at Potter's House Christian.
"It was complicated and hard for me because I didn't understand any of the rules," Azubuike told thrivesports.com of his start in basketball. "But I watched a few Michael Jordan DVDs, and started to play a little and I started to like the sport.
"I try to watch as much basketball as I can now," Azubuike added to the website. "I watch Dwight Howard a lot. He plays like me, so I try to watch him and learn. I know this is a once-in-a-lifetime opportunity for me, to go to college and play (in NBA)," added Azubuike who told catsillustrated.com he also watches tape of Hakeem Olajuwon and Jahlil Okafor.
Azubuike averaged 13.1 points and 7.6 rebounds per game for the Georgia Stars in the Nike EYBL this summer. His team, which included junior standout Wendell Carter, won the Nike EYBL finals.
"He's just a monster," Carter, a 6-10 junior from Atlanta's Pace Academy and the No. 1 player in the Class of 2017, told the Louisville Courier-Journal. "If I catch it in the high post and he's asking for it, I'm going to give it to him because I know that's two points or they're going to foul him. He's a beast. That's all I can say."
"I'm a power player," Azubuike told the Courier-Journal. "Sometimes when I get really mad in games, I really pull down the rim. I just try to prove that I'm unstoppable."
Of his eventual college choice, he told catsillustrated.com: "I'm looking for a program that uses the big a lot. Try to give it to the big and try to get the big better, work on the big and stuff like that."
Lightfoot, who averaged 17.9 points, 9.7 rebounds, 6.8 steals and 4.8 blocks last season for Div. II Arizona state champion Gilbert Christian, has a final list of five, including two schools he's mighty familiar with — KU and Arizona.
Lightfoot was born in Kansas City, Missouri, moving to Arizona when he was 6. He was a KU fan at the time of the move, which meant last Sunday's in-home visit from KU coach Bill Self classified as a dream come true.
"My mom, while in the middle of things during the in-home visit, said, 'Mitch, pinch me,''' Lightfoot told Jayhawkslant.com. "I mean, coach Self was in my kitchen this morning eating breakfast with us. I was like, 'Okay. Well, that's awesome.' We were watching the Chiefs game and just having a good time together. How many times does that happen?"
Lightfoot also knows everything about Arizona's program, having attended Ironwood High School in Tucson until his junior year when he moved over to Gilbert Christian, an hour and half from U of A's campus. He's to visit Arizona on Oct. 10.
"Coach (Sean) Miller has brought it to where every program in the nation wants to be — a title contender," Lightfoot told Goazcats.com. "He's a great coach and he has a great facility."
Lightfoot, whose other finalists are Stanford, Utah and St. John's, had a breakout summer on the AAU circuit, playing for Arizona Power Black.
"I think I found the next Sam Dekker. Even same haircut. His name: Mitch Lightfoot," ESPN's Jeff Goodman wrote in July after watching Lightfoot at an AAU tourney.
Noted ESPN's Fran Fraschilla to Sporting News: "If Mitch were to have a Sam Dekker college career, I think he would be very happy with that. Sam is a little bigger. Mitch might be a little more explosive, but I think being compared to Dekker is just a testament to what people think about Mitch. I told him to continue to work on his ball handling and his ability to play away from the basket so he doesn't get locked into one spot. I think at the college level he's going to be a small forward. His athleticism is off the charts."
Fraschilla added: "He's athletic. He's got good basketball skills, a great work ethic, a great personality and he's definitely a guy who has opened some eyes. All the basketball stuff is great, but his personality is just the icing on the cake for a guy like him. He's been one of the more popular kids at the camp (that Fraschilla attended in July) because he always has a smile on his face. You can laugh and joke with him, but he's been in all the extra skill sessions trying to get better."
For a video of Azubuike, go to http://ljw.bz/1KukDwo. For a video of Lightfoot go to http://ljw.bz/1UYL4M5.
TCU starter to miss season: TCU junior forward Kenrich Williams will undergo microfracture knee surgery today and miss the 2015-16 season, the Fort Worth Star-Telegram reported Thursday. He averaged 8.6 points and 6.7 boards a game last season. Without Williams, TCU, which went 18-15 last season, has two returning starters in Chris Washburn and Karviar Shepherd.