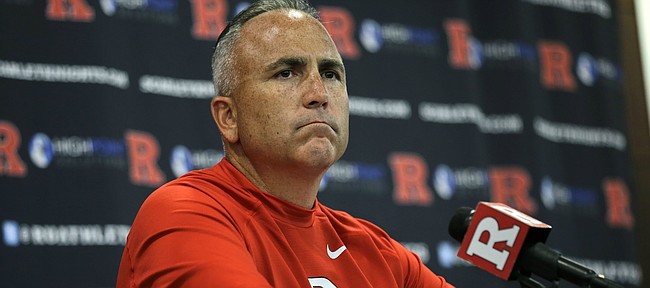 According to a Wednesday afternoon report from NJ.com, Rutgers coach Kyle Flood has been suspended three games and fined $50,000 after a university investigation found Flood responsible for rules violations and a string of off-the-field issues involving a few of his players.
As a result, Flood will miss Rutgers' Sept. 26 home game against Kansas University, along with this week's showdown with Penn State and an Oct. 10 game against Michigan State. The Scarlet Knights have a bye on Oct. 3.
Rutgers President Robert Barchi officially announced the punishment Wednesday, a day after he said he received an internal investigative report.
"I believe that the discipline is severe and justified for his failure to follow policy," Barchi said in a letter addressed to members of the Rutgers community. "I met with Coach Flood this afternoon and informed him of the suspension and the fine and he has accepted responsibility for his actions and my discipline."
The Associated Press is reporting that the investigation found that Flood emailed and met in person with a faculty member even though he knew or should have known of the university's policies prohibiting coach-initiated contact with faculty members regarding students' academic standing.
The report, which centered on Flood's inquiries about the academic status and eligibility of junior cornerback Nadir Barnwell, also found that Flood provided grammatical and minor editorial suggestions for a player's paper to complete a course.
In addition to his own actions, Flood's control of the program was called into question after Rutgers captain and standout wide receiver Leonte Carroo was suspended after facing assault charges in a domestic violence issue. On Wednesday, Carroo pleaded not guilty to the charge in which authorities say he slammed a woman onto concrete after a football game.
According to the AP, the Carroo incident "is the latest stain on a program that has seen six other players kicked off the team this month after being arrested on charges that include armed robbery and home-invasion burglary and rioting. One of the former players was also charged in two home-invasion robberies."