Memphis (1-0) at Kansas Jayhawks (0-1)
6 p.m. Memorial Stadium — Game-time forecast: 66 degrees, sunny, 0 percent chance for rain, winds 6 mph from the northeast — TV: Jayhawk Network
Log on to KUsports.com for our new-look live game blog coverage and follow the KUsports.com staff on Twitter: @KUSports @mctait @TomKeeganLJW and @bentonasmith
Keys for Kansas
1 . Start faster
Because of a host of miscues on defense and a few crucial mistakes on offense, Kansas University found itself in a whale of a hole, down 31-7, during last week's season opener against South Dakota State. KU players and coaches this week talked a lot about that not being good enough and Kansas needing to jump out of the gate with a much better start, especially during home games. Every KU practice features an early segment known as the fast-start period, where the first- and second-string offenses square off against the first- and second-string defenses in an attempt to get the juices flowing and see which side can handle the pressure. Last week, both sides struggled with a slow start, and the team has its sights set this week on a better first-quarter showing from both units. "You (have to) come out and set the tone of the game," senior defensive end Ben Goodman said. "A first-down win is a fast start. Getting a team to first-and-eight or first-and-12 or (making) a big hit on the first play, that's a fast start."
2 . Defense must be ready for anything

Although South Dakota State certainly gave the Kansas defense plenty to be concerned about a week ago, KU figures to face an even tougher test this week against the Tigers. The Tigers can do damage with the quarterback-run game, and they also are very deceptive and like to run similar plays out of a lot of different sets. "We've got to do a better job stopping the run," said KU coach David Beaty, whose team surrendered 170 yards on the ground to the Jackrabbits last week. "We've got to do a better job of holding gaps. This team we are about to play can run the ball effectively. If your eye is in the wrong place with these guys, with (head coach) Justin (Fuente), you're going to be in for a long day, because they will be in the end zone, and you don't even know who has the football. He will misdirection you, he will option you, he will drop back and become a drop-back pass team. I mean, they are very multiple, and you have to be very disciplined to be able to manage these guys and keep them in front of you."
3 . Complete it, Cozart
Last week, junior quarterback Montell Cozart completed 66 percent of his passes and put the ball in the air 38 times. If the Jayhawks hope to have a chance in this one, against a faster, more athletic Memphis defense, Cozart is going to have to keep that completion percentage where it is or improve upon it. The short, quick passes Cozart completed against South Dakota State only helped spread the field, moved the chains and also served as a way to control the tempo of the game and the clock. If Cozart gets wild and starts missing the mark — because he becomes inaccurate or is sent scrambling for his life — then the Jayhawks' chances of hanging with the Tigers decrease significantly.
Mega Matchup
Memphis QB Paxton Lynch vs. the KU linebackers

Too big for defensive backs to handle and too nimble for defensive linemen to chase down, Memphis junior QB Paxton Lynch stands 6-foot-7, weighs 245 pounds and moves like a much more compact running back. The burden of stopping him could fall on the Kansas linebackers. Although none of the 'backers listed on KU's depth chart come within four inches (three Jayhawks stand 6-foot-2) and 24 pounds (junior Schyler Miles weighs in at 221), these are the players who are more used to the physical style of play that will be needed to pop Lynch and make him pay when he decides to leave the pocket. If they can do that often enough, the result could help KU's defense in the running and passing games. If not, Lynch could be in for one of his signature big days.

5 Questions with senior linebacker Marcquis Roberts
1 . So your name is pronounced Mar-Kweese. How often do people butcher it, and do you ever get tired of that?

"Yeah. People mess up my name. It's Mar-Kweese. Sometimes, it's just a habit where I'll just answer to (Mar-Keese), and I won't even correct 'em because I'm so used to hearing it all the time. It was, like, my mother's God-dad's name or something like that."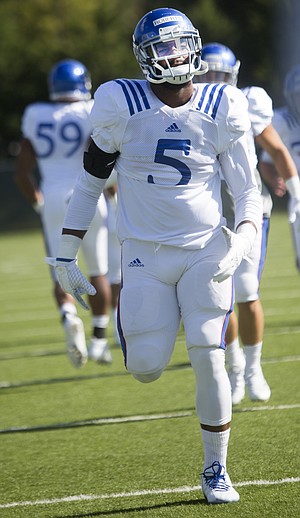 2 . Kansas and South Carolina worked out what amounted to be a trade of sorts in the offseason — you for former KU safety Isaiah Johnson. Did you guys ever talk about switching schools?

"We talked a little bit. I actually had a teammate who played high school ball with (former Jayhawk) Keon Stowers, and he gave me his number. We both said it'd be a good fit for both of us, nothing too deep. He's got my number I had (21), and I've got his number he had (5). That was just a coincidence."
3 . Did you ever think, in your wildest dreams, that you'd wind up in Kansas for anything?

"Nah. I've never been this far out. I didn't know too much about Kansas, but I'm happy to be here. I love it. The campus is beautiful. All the people around are pretty nice. It's just a great place to be."

4 . Despite the fact that you've only been in town for a few months, you already have been referred to and looked at as a leader on this team. Has that been nice or is it a burden?
"I feel like it's an honor. I feel like I've been a leader since I was a little kid. People always looked at me for advice in all types of stuff, so it's nothing new. I'm one of the older players. I played in the SEC, and those guys know that I've been through some thing, and seen some things, and I have the ability to be a leader. It's pretty natural for me. I love for some younger guy to ask me a question about something. I love to see somebody learning, and I love learning myself."
5 . You've now played football in two of the so-called power five conference, the Big 12 and the SEC. So how much of a difference is there between the two?
"It's pretty similar. It's just more fast-paced here. I know the Big 12 is more fast-paced, and everybody runs the hurry-up, less downhill power running and stuff like that. But the competition and competitiveness, it's the same."
Jayhawk Pulse
Despite dropping the season opener to a team from a lower division, Kansas saw plenty of encouraging signs from Week 1 of the Beaty era. The offense moved the ball, put up points and looked more like a Big 12 offense than anything we've seen in the past five years, and the in-game adjustments made by defensive coordinator Clint Bowen and the rest of the coaching staff limited SDSU to just 10 points over the final 43 minutes. But a loss is still a loss, and, given the state of the program, letting one of the few truly winnable games slip away because of a sluggish start on both sides of the ball has to be considered a severe disappointment. But there did not seem to be as much doom and gloom surrounding the program following Week 1 as we have seen in recent years. A big reason for that seems to be because this group is fully rooted in reality and seems to realize anything less than a flawless performance probably will not be good enough. What's more, they're OK with that and willing to put in the work it takes to strive for that goal.

Tale of the Tape
KU run game vs. Memphis run D — edge: Kansas
KU pass game vs. Memphis pass D — edge: Memphis
Memphis run game vs. KU run D — edge: Memphis
Memphis pass game vs. KU pass D — edge: Memphis
Special teams — edge: Kansas