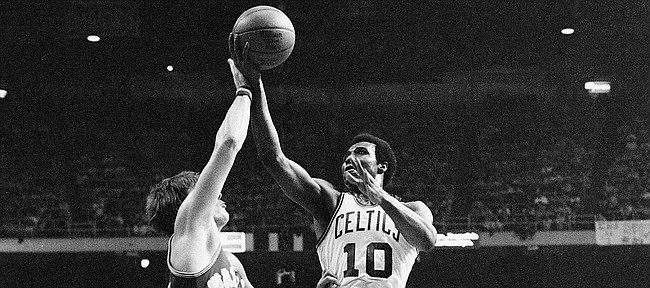 As of tonight, Jo Jo White will no longer be referred to as "the greatest player not in the Naismith Memorial Basketball Hall of Fame."
Thirty-four years after his playing career ended, the 68-year-old former Kansas University/Boston Celtics standout today will be enshrined in the prestigious Hall in Springfield, Massachusetts.
"I've been a big champion of his. He should have been here a long time ago," White's Celtics coach, Tommy Heinsohn, told masslive.com on Thursday at the Hall. He was referring to White, a seven-time NBA all-star who was the MVP of the 1976 NBA Finals — the Finals in which he played 60 of a possible 63 minutes of a triple-overtime game against Phoenix.
"A lot of people took him for granted. He was one of those guys on the Celtics that was a terrific, terrific player," Heinsohn added.
"It's well-deserved and too long to wait. Jo Jo was a great player," Celtics Hall of Famer John Havlicek told Sirius XM NBA radio.
White — he had his KU jersey No. 15 hung in the rafters of Allen Fieldhouse in 2003 and Boston Celtics jersey No. 10 hoisted in The Garden in 1982 — has been patient, never publicly blasting the Hall for his omission.
"I just wondered why it was taking so long," the 6-foot-3 White said in late July in a speaking engagement on the Hall of Fame's Center Court, his comments as reported by masslive.com.
"I could ball," White added. "I'm just letting you know. I could ball. I don't care what somebody said or what they said, we came to play."
On Thursday, White received his Hall of Fame jacket and spoke briefly to the media.
"I absolutely adored playing this game," White said. "I thank the Lord every day ... and I'm still here. ... See, now you know. Can't nobody tell you other. Now you know. I earned it," White added of this honor.
White had surgery to remove a brain tumor in 2010.
He's fully recovered, however, because of the stress involved in reading a long speech, his pre-recorded statement will play on the video board at the Hall with White standing at the podium.
"I'm feeling absolutely fantastic," White told The Sporting News Thursday. "I wish I could still get out there and play, but I'm not."
Of the surgery, his college coach, Ted Owens said: "Even though it was benign it put pressure on some things. He's made great headway since the last time out (to KU a few years ago) when he was on a cane. Of course he is thrilled about his induction as you can imagine."
White is one of the most popular players in both KU and Celtics history.
"Last year, I went back to a Celtics game with Jo Jo," said Owens, who is in Massachusetts for tonight's induction ceremony. "He wanted me to see his jersey which was in the rafters with many other great players. Kids from all over the stands — people all over — were coming up to get his autograph. He's still loved and very well-known."
White was a two-time All-American (1968 and '69) and three-time all-Big Eight player who scored 1,286 career points, good for 29th in KU history.
"People used to ask me what are his strengths? I said his greatest strength is he had no weaknesses," Owens said. "He was a great athlete. As a matter of fact, Gil Brandt of the Dallas Cowboys really tried to get him to play pro football as a safety. That's the kind of athlete he was. He was totally unselfish, would do whatever he needed to get the win."
White tonight will be inducted with former KU grad assistant and current Kentucky coach John Calipari, NBA referee Dick Bavetta, four-time NBA al-star Spencer Haywood (who won a gold medal with White in the 1968 Olympics), eight-time NBA all-star Dikembe Mutombo and three-time WNBA MVP Lisa Leslie.
Owens gave Calipari his first break in coaching, a spot on KU's staff as a grad assistant. He remained in the same role under coach Larry Brown.
"I was impressed with him, so energetic. I thought he'd be a great recruiter," Owens said of Calipari. "When I left KU in '83, I was looking into the possibility of taking a job at Cal-Santa Barbara and I offered him a job if I went there. The Cal thing didn't work out otherwise he'd have gone with me."
This, that: Rich Clarkson, a 1951 Lawrence High graduate who worked as a photographer at the Journal-World while he was a KU student, on Thursday received the Curt Gowdy Media Award at the Hall. ... Tonight, former KU coach Brown will present Calipari for induction. Former KU women's phenom Lynette Woodard will be one of the presenters for inductee Lisa Leslie. ... Brown will also be presenting Lindsay Gaze. ... White will be presented by Dave Cowens . ... Self today will visit the home of De'Aaron Fox, a 6-3 senior point guard from Cypress Lakes High in Katy, Texas, who is ranked No. 5 nationally by Rivals.com. ... Pitt freshman Damon Wilson, who played the past two years at KU frosh Cheick Diallo's alma mater, Our Savior New American, has been declared academically eligible to play this season, ESPN's Jeff Goodman reports. This is seen as possible, positive news for OSNA grad Diallo, who is still awaiting word on his eligibility.