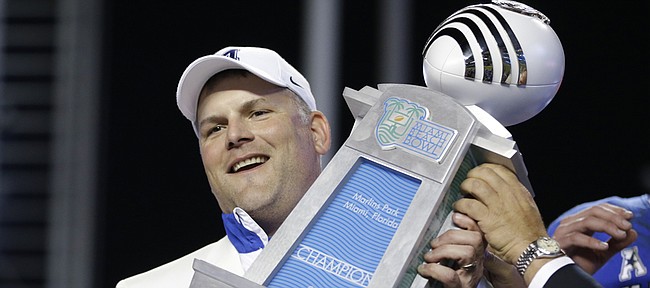 In the fall of 2005, newly named Illinois State athletic director Sheahon Zenger, who now holds the same position at Kansas, wandered out to an ISU football practice and could not believe his eyes.
On the offensive side of the field, where the quarterbacks and receivers were working on offensive installation, a 29-year-old coach who looked barely old enough to be out of college seemed to be the one in charge.
Figuring he was mistaken, Zenger approached then-ISU head coach Denver Johnson and asked him who the young man was.
His name was Justin Fuente, and although the current Memphis Tigers coach who will bring his team to Lawrence at 6 p.m. Saturday for a Week 2 showdown with the Jayhawks remains one of the hot, young names in college coaching, Fuente has aged and accomplished an impressive amount since that day on the field in Bloomington-Normal, Illinois.
"Justin was a young man that I was always very impressed by," Zenger said. "And I always admired his play-calling ability even then."
After starting his college career as a three-year QBs coach and three-year offensive coordinator at Illinois State, Fuente left ISU in 2009 to become the co-offensive coordinator and QBs coach at TCU, where he helped lead the Horned Frogs and quarterback Andy Dalton to a victory in the 2011 Rose Bowl.
On the heels of the Horned Frogs' enormous success, Fuente, now 39, left TCU for the challenge of rebuilding at Memphis.
After leading the Tigers to records of 4-8 and 3-9 during his first two seasons in charge, the former Oklahoma quarterback, whom many believe may some day wind up coaching his alma mater, guided the Tigers to a 10-3 season and bowl victory a season ago, which landed him squarely on every hot list for just about every head coaching vacancy in the country, including the one at Kansas.
Sources familiar with the search that ended with KU hiring David Beaty said casual conversations with Fuente never went beyond that. And in mid-December, Fuente agreed to a new five-year contract that included a $400,000 raise and hefty incentives.
The Jayhawks got their guy in Beaty, who, through previous stops at Kansas, had important institutional knowledge of what it took to succeed at Kansas, and the Week 2 game with the Tigers got a little more interesting.
Beaty said he and cornerbacks coach Kenny Perry remember first meeting Fuente when he recruited the halls of the Texas high schools at which they coached "way back in the day."
As things often seem to go in the coaching world, the bond between Beaty and Fuente eventually grew on the recruiting trail, where they found themselves visiting the same schools and recruiting some of the same athletes.
"I've known (him) for a long, long time," Beaty said earlier this week. "(And I) knew he was going to be successful because of the way he handled kids. But, man, he's got some good players and has done a really good job with that football team."
This week, all of the good vibes associated with their connection go out the window and it's Beaty's job to find a way to slow down Fuente and the Tigers. That should be at least a little easier given Beaty's familiarity with Fuente's offensive attack.
"I mean, I was the one standing in line trying to steal what he was doing schematically because he's a brilliant, brilliant offensive mind," Beaty said. "I learned a lot from that guy."
What makes Fuente's system so successful is something KU defensive coordinator Clint Bowen referred to as "complicated within its simplicity."
In their 63-7, Week 1 victory over Missouri State, Fuente's Tigers ran 81 plays and displayed balance in the run and pass game, with 317 yards and 5.3 yards-per-carry on the ground and 202 yards and a 76-percent completion rate through the air.
"You can tell they know exactly where they're headed with everything," Bowen said. "And it's the repeat plays, but they give you so many motions and formations and ways of getting to the same thing that it creates problems for defenses. It's a nice system and they have the right personnel to run it."