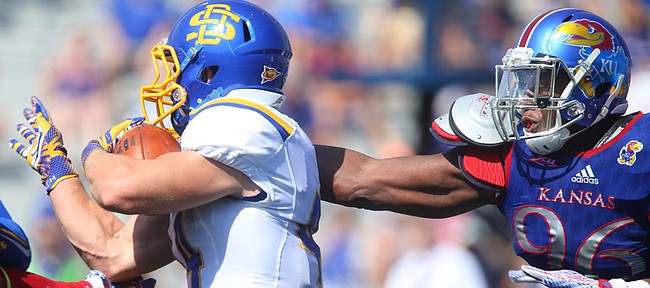 For all of the obvious shortcomings and handful of encouraging positives that came from last week's 41-38, season-opening loss to South Dakota State, the one area that might be most important for Kansas University's football team is how the Jayhawks address missed tackles.
A review of game film revealed Kansas missed 16 tackles against SDSU, most coming in the disastrous first 17 minutes in which the Jackrabbits built a 31-7 lead.
As a general rule, the Kansas defense deems an acceptable showing as any game in which they convert on at least 90 percent of the possible tackles. Saturday's showing came in around 70 percent, which, left defensive coordinator Clint Bowen and head coach David Beaty less than pleased.
"We did not tackle very well at all, and it was a lot of different types of tackles," Bowen said Tuesday as the team began preparations for this week's 6 p.m. Saturday showdown with Memphis at Memorial Stadium. "It was open-field tackles, it was in-the-box tackles, we didn't take good angles to the ball-carrier, and when we got to the ball-carrier we didn't do a good job of bending our knees and hitting through and finishing tackles off."
Podcast episode
A few days removed from losing his first game as Kansas football coach to South Dakota State, David Beaty speaks with media members Sept. 8, 2015, about the ramifications of that setback, what KU's coaches saw when reviewing video from the season opener, and how the Jayhawks can improve their ...
With 22 players making their KU debuts, it's easy to point at youth and inexperience as a reason for some of the miscues. Bowen and Beaty said they believed that was a factor but blamed it more on those young players not trusting their training.
"You look at a lot of the mistakes we made, it wasn't like those were mistakes that kids were routinely making in practice," Bowen said. "Guys didn't fall back on what they'd been taught to do. Young kids playing a significant role for the first time, they just kind of lost their discipline."
Fifth-year senior Ben Goodman, a defensive end who finished with two tackles, including a sack, said he was surprised by the way KU struggled to get guys to the ground.
"I certainly addressed it at halftime and on the sideline during the game," Goodman said. "We did have a lot of young guys out there, but it's still no excuse to miss tackles and definitely as many as we did. That was definitely unacceptable, and that's not what this defense is."
While none of the work put in from this point on will bring back any of those missed tackles, some of which led directly to scoring opportunities for the Jackrabbits, the Jayhawks also realize there's no use in putting too much emphasis on the past.
To that end, both Bowen and Goodman came up with a couple of ideas they thought would help.
"I think we're still at the point of teaching and pointing out the reason that they missed a tackle," said Bowen, who, along with four or five other coaches, spent a significant part of Tuesday's practice screaming at all 11 defenders to sprint to the ball. "There's usually a cause. Was it an angle? Was it a finish? What was the problem, and focus on that."
Added Goodman: "I'm for sure telling the defense that we're hitting the scout team running back this week. No thudding up, no tagging off, it's tackle and taking him to the ground so we'll be prepared."
What now, Willis?
Now that freshman quarterback Ryan Willis had his chance at red-shirting burned because of an appearance in the first half Saturday, Beaty was asked if the coaching staff would do anything different in terms of giving the Bishop Miege rookie a better chance to develop behind junior starter Montell Cozart.
"You'd like to," Beaty said when asked if he'd like to find a way to mix Willis into the game plan somehow. "As he shows development, that gives us the opportunity to use him more. It was what we said the other day: the next step in his progression, his maturation of trying to become a quarterback at this level. We would like to get him more snaps, absolutely. But right now Montell Cozart is our starter, and he did a good job of leading us back the other day."
Identity established
Throwing up 38 points and nearly 600 yards on offense certainly was the kind of debut Beaty had hoped for the offense that he and offensive coordinator Rob Likens installed at Kansas this offseason.
And although it was not enough to win, the good that came from delivering at that level in the opener went beyond wins and losses.
"After the game, Rob and I talked, I said, 'Look, I'm so proud of what you did in your first game as a Div. I offensive coordinator,'" Beaty recalled. "Not like he needs me to tell him that. He's as good of a coach as I ever hope to be. But I could see his identity, our identity, and that's probably what made me most excited for him, is you could see our identity."
Dineen delivers
He spent his freshman season playing running back and moved to linebacker just a few months ago. Still, what local boy Joe Dineen, a Free State High graduate, showed his coaches in the opener was enough to have them excited about his future at the position.
"I thought Dineen played really well," Bowen said. "He was active. He showed up. He was one of the players I felt, at the end of the game, you knew he played in the game. He obviously made some mistakes, but he had a couple hits on the QB, played his gap well, had a couple tackles. I thought you noticed him."
Added Beaty: "That was a big question I had coming into the game, was what kind of production was Joe going to have? ... I had not seen him play a snap other than what we had seen him do in practice. It was good to see him be productive."