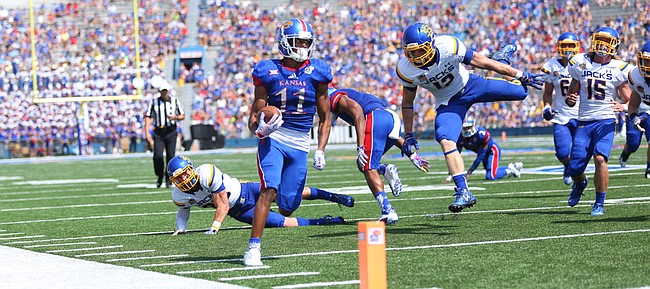 Saturday's 41-38 loss by the Kansas University football team to FCS foe South Dakota State left a bitter and disappointed taste in the mouths of the Jayhawks.
But not solely because of the final score.
In addition to being head coach David Beaty's first game in charge of the Jayhawks and the Kansas debut for 22 players, Saturday's game also featured the revealing of KU's new Air Raid offense.
While there were plenty of signs the offense performed well — 576 total yards; most points in a game since October 2011; four scoring drives of four minutes or less — the players and coaches left Memorial Stadium hungry for more.
"We can move faster," said junior running back Ke'aun Kinner, who ripped off 157 yards and two TDs in his first game as a Jayhawk. "If we do it in practice, we can do it in the game."
From Day One of spring practices in April, the Jayhawks' emphasis during the offseason and transition to Beaty — in addition to things like effort, enthusiasm and earning everything they got — was on playing fast.
Offensive coordinator Rob Likens marveled after his first practice with the Jayhawks about the team's ability to get to 90 snaps in a new system. And Saturday, during Likens' first game as an OC since 2009, the Jayhawks ran 90 plays — 50 runs and 40 passes.
While the number was good, the efficiency, production and consistency within those 90 plays remained a work in progress.
"Utilizing the tempo is something you gotta do," Beaty said. "But you've gotta use it. If (the defense is) standing up, you need to snap the ball while they're standing up."
Added senior Tre' Parmalee, who impacted Saturday's game as a receiver, runner and return man: "I think that wears defenses down, and we started to see it. We moved the ball faster, and we saw it in their faces and in their demeanor. They got tired, and we just kept putting the pedal to the metal. That's when we were at our best."
Beaty, like many of his players, said he believed the offense would improve in that area as the season moved along. But, for a first game, he seemed pleased with the pace.
"I think they liked that we were aggressive on most downs," Beaty said of his players. "And (quarterback) Montell (Cozart) did a great job of managing it. I wanted him to be sure about what he was seeing."
Cozart was. In addition to completing 66 percent of his throws and averaging 5.5 yards per carry as a rusher, the junior QB who now has started games in three consecutive seasons, looked and said he felt more comfortable making decisions, many of which helped KU's offense operate at a rapid pace.
"Being able to use our tempo against those guys put us in good situations and manageable downs where we could move the ball," Cozart said. "We scored 21 straight, and that lets you know that we're deadly. That was a great sign for us."
Memphis favored
KU's Week Two opponent — the Memphis Tigers, who will visit Lawrence for a 6 p.m. kickoff Saturday at Memorial Stadium — opened as a nine-point favorite over the Jayhawks.
By the end of Sunday, that spread jumped to as high as 11.5 points.
Johnson cut, corralled
Former KU linebacker Steven Johnson was one of the Denver Broncos' final cuts this weekend, as NFL teams were forced to finalize their 53-man rosters.
Within hours of being released by the Broncos, Johnson, a four-year pro who mostly has played as a back-up on defense and starter on special teams, was picked up off waivers by the Tennessee Titans.