Kansas University's soccer team dropped its home opener Friday at Rock Chalk Park, losing to Santa Clara, 1-0, in double overtime.
Santa Clara's Mariana Galvan netted the game-winning golden goal in the 103rd minute.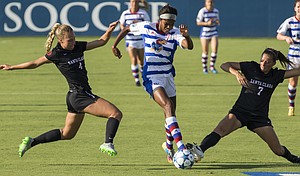 "I thought we played really well today," KU coach Mark Francis said. "Games like that, you turn around and look at the scoreboard and you can't believe you lost. Defensively, our back three were unbelievable today. We moved the ball well, and because of that, we created some clear-cut opportunities.
"We just need to be more clinical in the attacking third. We'll bounce back from this one."
The Jayhawks (2-2-1) outshot the Broncos (3-2), 15-14, with senior Liana Salazar recording a team-high four shots.
KU goalkeeper Maddie Dobbyns made four saves before allowing Galvan's goal.
Kansas will try to bounce back against Oregon State at 7 p.m. Sunday at Rock Chalk Park.