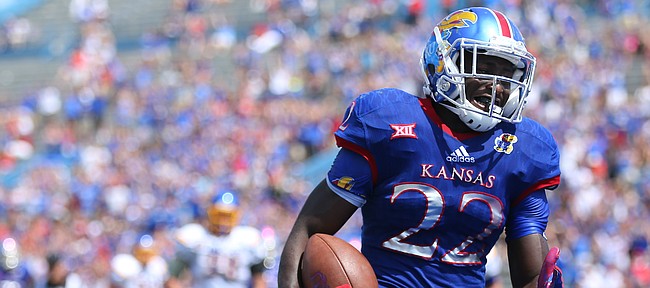 Add junior Ke'aun Kinner's name to the list of recent Kansas University running backs who turned in one heck of a game in their Jayhawk debuts.
Kinner, a 5-foot-9, 180-pound transfer from Navarro College, not only started at tailback for the Jayhawks during Saturday's 41-38 loss to South Dakota State at Memorial Stadium, but he also rumbled his way to 157 yards and two touchdowns on 27 carries, making him the fourth Jayhawk to eclipse the 100-yard mark in a debut in the past six seasons, joining De'Andre Mann (2014), Corey Avery (2014) and James Sims (2010).
"I'm not really that into my personal stats," Kinner said after the loss. "I just try to do as much as I can to help my team get the win and I didn't do enough."
Photo Gallery
Kansas football v South Dakota State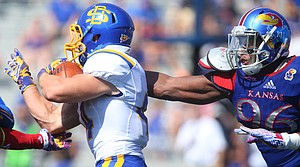 Images from Saturday's game between the Jayhawks and Jackrabbits at Memorial Stadium.
KU coach David Beaty thought otherwise.
"Going into the game, the one thing I wasn't really quite sure of was his top-end speed," Beaty said. "But he showed some things today that I thought were pretty good. We're going to continue working with him on trying to just keep them shoulders squared and get going and trust his speed a little bit more."
Asked if the heavy workload was right about what he expected to put on Kinner's shoulders throughout the season, Beaty was non-committal.
Podcast episode
After a fumbled snap kept Kansas football from running a play in the final seconds of a 41-38 loss to South Dakota State Sept. 5, 2015, at Memorial Stadium, new KU coach David Beaty addresses the issues on that play and other parts of the game with the media.
"Honestly, I don't know if I know the answer to that," he said. "We feel like he's got to touch it. I'm not sure we're going to put a number on it, but we feel he has to touch it because he's a talented guy."
Well, hello
Twenty two Jayhawks made their Kansas debuts during Saturday's loss, by far the biggest number of first-time players to take the field for the Jayhawks in a season opener in years.
Of that group, 11 were first-time starters and 15 players with one start or less in their KU careers graced Saturday's starting lineup on offense and defense.
"We used a lot of guys today," Beaty said. "We were in and out, in and out, in and out on both sides of the ball, which was somewhat by design. But there were some guys I'm not sure we thought were going to get in the game that actually got in there and were able to contribute."
QB update
With junior starter Montell Cozart knocked out of the game for two plays in the first half after getting smoked while fumbling, Beaty got a chance to unveil a little more of his depth chart that was not released until a few hours before Saturday's kickoff.
True freshman Ryan Willis was the first quarterback off the bench for the Jayhawks on Saturday, which Beaty said was an indication that the Bishop Miege High grad had played his way into that spot during the week of preparation.
"This week at least," Beaty clarified of Willis, who finished 0 of 2 passing. "He's still going to have to continue to earn it. Man, I would have loved to have seen him step up and make those throws and get those completions in there. Because he made the right reads, he's just got to be able to put them in. He's a talented guy, and I think that was really good for him. I think he'll learn a lot from it."
Cozart returned to the huddle following Willis' two incompletions and played the rest of the game.
Special teams lift
Freshman walk-on Ryan Schadler and senior Tre' Parmalee both gave Kansas a boost in the return game Saturday.
Schadler, a former Wichita State sprinter, forever will be the answer to the question: Who scored the first touchdown of the 2015 season. With his team trailing 10-0 midway through the first quarter, Schadler put Kansas on the board with a 91-yard kickoff return for a touchdown.
"Very impressed but not surprised," Beaty said when asked about Schadler's day. "The guy has been like that since the day we got here. He's a sprinter, he can run. I knew when he got the in the open field there (was) no way that guy's going to tackle him. That really energized our team. That was a big deal."
Later, with KU needing a field goal to tie in the final minute, Parmalee ripped off a 26-yard punt return to set up the Kansas offense at its own 41-yard line.
Bowlsby in the house
Big 12 commissioner Bob Bowlsby was in attendance for Saturday's game. Bowlsby typically makes his way to a home game for all 10 Big 12 programs and may have been looking to get to Kansas for its most winnable game.
This and that... The Jayhawks lost Saturday's opening coin toss and started the game on defense. South Dakota State elected to receive the first-half kickoff.... Freshman Tyrone Miller Jr. led KU's defense with eight tackles and two pass break-ups, while Ben Goodman, Dorrance Armstrong and Daniel Wise each recorded a sack.... KU's 38 points were the most scored by the Jayhawks since scoring 45 in a 2011 victory over Northern Illinois. KU never topped 34 points during the Charlie Weis era.... Temperature at kickoff was 88 degrees, under partly cloudy skies with light winds out of the south.
— See what people were saying about KU football during our live coverage.
---
More news and notes from KU football vs. South Dakota State
---