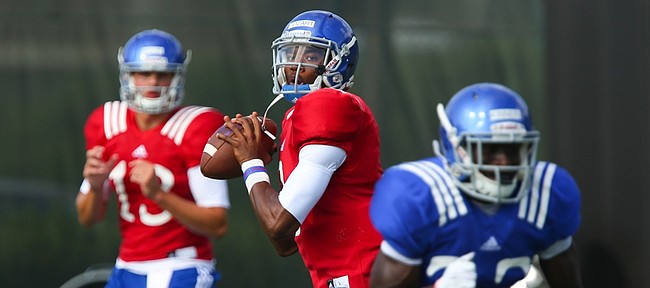 Kansas University defensive end Ben Goodman, a senior, projected starter and co-captain, has not actually seen KU's two-deep depth chart with his own eyes.
And that does not make him much different from anyone else.
First-year KU coach David Beaty on Tuesday revealed that the Jayhawks would not release a two-deep depth chart prior to Saturday's season opener — 11 a.m. vs. South Dakota State at Memorial Stadium — in large part because he and his coaching staff were still making it.
"We really have not made those final decisions across the board yet," Beaty said Tuesday. "It's really kind of a fluid deal for us in this first year. It's going to be fluid all year long until somebody stabilizes in a position and really kind of earns it."
Podcast episode
Headed into his debut as Kansas football coach on Saturday versus South Dakota State, David Beaty meets with the media on Aug. 1, 2015, to talk about the Jayhawks' opener. Beaty explains why he and his staff decided not to release a depth chart, and describes the challenges ahead for ...
Just because the Jayhawks' depth chart is not posted in the locker room or printed out on a piece of paper for the media to share does not mean it doesn't exist. The coaches have a pretty good idea of how the first and second units look and Goodman said the players know where they stand, as well. The idea of not making it official, even with the season opener fast approaching, has more to do with the theme of earning everything they get that dominated the offseason.
"They're still watching," Goodman said. "They're seriously still evaluating us. And, like they tell us, the depth chart is in erasable marker. That means if you're not performing and you're not doing your job on or off the field, your name will be erased and somebody else will move up."
That mentality is something the Jayhawks have gotten used to. And they're fine with it.
"I love it," said junior quarterback Montell Cozart, who was named KU's starter nine days ago. "You can never relax and you can never get comfortable and complacent and to a point where everything's all good. You've got guys behind you that are going out there every day to get better so you have to come with the same mentality or you're gonna be sitting on the sideline."
Added senior center Keyon Haughton: "It's not a bad thing. It's always a good thing to have a coach evaluating you. If you see yourself being that type of player where you don't need to work on those little things, then it becomes a problem."
While the ongoing evaluations are in part to help Beaty and company put the most competitive team they can on the field this season, they're really being done with the bigger picture in mind.
Players change and circumstances do too. But with such a young roster — including walk-ons, 60 of the 115 players on the roster are freshmen or sophomores — and so many of these guys factoring into the plans for the next three or four years, what the coaching staff can learn about them now can go a long way toward determining what they need to recruit and address in the future.
"We're moving into that next phase of evaluation," Beaty said. "It's obviously a game week and it's a great opportunity for us to get this thing started right, in the right direction."
Back-up QB race
Without a depth chart for reference, Beaty was asked by a reporter about the status of his back-up quarterback position behind Cozart.
"We're still in the process (of deciding)," said Beaty of the battle that seems to be between juco transfer Deondre Ford and true freshman Ryan Willis. "We're not completely set on that. Honestly, it's about a dead heat right now. I think those guys are all still battling this week. We should know a lot more (after Tuesday), and by (today) we'll certainly know."
Healthy 'Hawks
Other than freshman wideout Jeremiah Booker, who remains sidelined with a collar bone issue, Beaty said the Jayhawks emerged from preseason camp about as healthy as you could ask.
"We have a pretty healthy team at this point going (into the opener)," Beaty said. "Really surprised. It's hard to get to that point this deep in fall camp. The way that we conducted camp helped us a lot.... The science, nutrition-based thing we did, combination of rest, nutrition, I think it really paid dividends for us."
Depth developing
One of the biggest obstacles facing Beaty when he took the job last December was the lack of depth and low number of scholarship players on the KU roster. Through the hard work of his staff, the development of a strong walk-on program and a little luck, Beaty today is fielding a much different team than the one he inherited.
"I think we have a lot better players than we had, to be honest with you, which created a lot more competition, which made those guys that were here in the spring even better players," Beaty said. "So now we're starting to close the gap.... That's what we hoped. I'm really happy with where we've come and where we're at right now. But we still have a million miles to go."