Saturday, October 31, 2015
Every recovery, every emergence from a near-death experience, has a moment to look back on as the absolute low point.
If and when the Kansas University football program ever escapes the abyss, those experiencing better times will look back on Halloween of 2015. KU Homecoming at Memorial Stadium.
The scoreboard read Oklahoma 62, Kansas 7, and the clock showed three minutes and change remaining. A look into the stands showed mostly empty aluminum bleachers mounted on aging concrete. Almost without exception, the only blue to be found was in the form of empty chair-backs decorated by the Jayhawk logo. A vast majority, surely more than 90 percent, of the humans still watching the monumental football mismatch wore Oklahoma red.
The official attendance of 26,677 represented tickets sold. Thousands fewer than that made it to the game. Most of those wearing blue found more relevant things to do than watch their school take another Big 12 beating at a time they can't compete because the program had been so badly mismanaged for so many years leading up to Sheahon Zenger with his last shot at getting it right turning to Texas A&M assistant coach David Beaty and signing him to a five-year contract that pays him an annual salary of $800,000.
Photo Gallery
Kansas football v. Oklahoma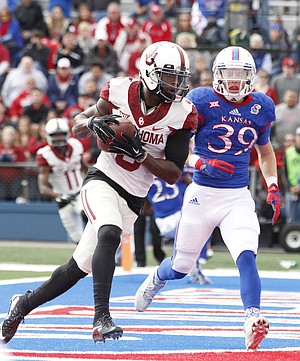 View a gallery of images from Saturday's game between the Jayhawks and Sooners at Memorial Stadium in Lawrence.
Homecoming is an event intended to draw alumni back to school for a football game they can enjoy together. To have it on Halloween, when parents help their children with their costumes and then pass out candy to other people's children, meant a big chunk of potential customers would not make the trip to Lawrence this year. A 2:30 p.m. game time made it possible for those who live nearby to attend, although not without inconvenience and certainly not to stay for four quarters. Not with the Kansas City Royals getting loose for Game 4 of the World Series.
Maybe it was just as well, although that doesn't excuse such bizarre homecoming scheduling. No Kansas alumni would have seen much of anything that would make them want to come back to a game anytime soon.
Podcast episode
First-year Kansas football coach David Beaty addresses all that went wrong for the winless Jayhawks in a 66-7 homecoming loss to No. 14 Oklahoma.
The numbers only hinted at the dominance because Oklahoma coach Bob Stoops, as was the case with Baylor's Art Briles and Oklahoma State's Mike Gundy, does not get a kick out of making a peer in an impossible situation feel worse than he already does by running the score higher than a Woodstock music festival crowd. Mercy still has its place in college football, even among those chasing a spot in the coveted four-school playoff.
Still, on a day in which injuries meant Kansas started two true freshman and a red-shirt freshman on the offensive line, Saturday's numbers bordered on graffiti. Oklahoma amassed 710 total yards, including 445 through the air. Kansas rushed 36 times for 35 yards. Oklahoma never punted, compared to nine times for Kansas.
No road humiliation can quite match one that takes place in front of a home crowd, and this season's remaining two visitors to Memorial Stadium, West Virginia and especially injury-weakened Kansas State, don't have quite the rosters to do to Kansas what Oklahoma did Saturday. The low point arrived when Matthew Wyman was sent back on the field for KU's ninth punt on third-and-11 from the Oklahoma 44.
Every recovery from the depths must start somewhere, a moment when a foot finds the first rung of a seemingly endless ladder to daylight. Kansas special teams player Beau Bell, a senior who played football for Bishop Carroll High in Wichita and then for one season at Hutchinson County Community College, made a play. He hustled down the field and put the right touch on the punted ball to make it land at the 1, a perfect play for such an imperfect football team winding up such a long, long day.
— Tom Keegan appears on The Drive, Sunday nights on WIBW-TV. 
— See what people were saying about the game during KUsports.com's live coverage.
---
More news and notes from Kansas vs. Oklahoma
---