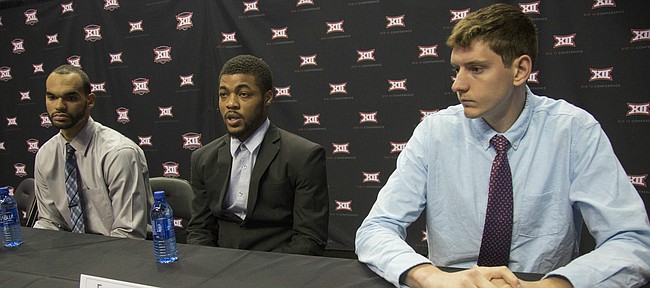 Kansas City, Missouri — Kansas University basketball coach Bill Self's plan as of this morning is to open games with a three-guard lineup.
"I plan on playing ... I'm not saying that it will for sure happen, but as of now, Devonté (Graham, 6-2 sophomore) and Frank (Mason III, 5-11 junior) will start next to each other, and then we'll play our big guard at the three, whether it be Wayne (Selden, Jr., 6-5 junior) or Svi (Mykhailiuk, 6-8 sophomore) or B.G. (Brannen Greene, 6-7 junior), probably Wayne if he's able to get healthy with his ankle," Self said at Big 12 Media Day in Sprint Center.
"But I think it gives us more play making. I think it gives us more speed, and I think we'll create more easy baskets for our big guys because we'll have better passers in the game."
Selden is not 100 percent healed from an ankle sprain he incurred about a month ago. Senior forward Jamari Traylor also has been slowed of late with an ankle sprain.
Podcast episode
Kansas basketball coach Bill Self answers questions from reporters at Big 12 Basketball Media Day, in Kansas City, Missouri.
"Frank's a much better player than he was last year," Self said. "He's going to continue to get better because the understanding of the game is going to get better. But I'm real pleased with him. I think what Frank is, he's not a true point guard. People think he's a point guard because he's not very tall. But Devoné and him together, I think you'll see Frank playing a lot off the ball. Devonté in a lot of ways is more of a true point than Frank, and I think that will free Frank up to even score more."
One of the starting forward slots obviously will go to senior Perry Ellis, leaving the fifth opening for either Cheick Diallo, Carlton Bragg, Traylor, Hunter Mickelson or Landen Lucas.
Self said there was no change in Diallo's status for the season. He's yet to be cleared for participation by the NCAA.
Self said the 6-foot-9 Diallo has been playing hard in practice, and was receptive to coaching, but was very raw and still had a lot to learn.
"We're excited. I think everybody's excited this time of year. Everybody's undefeated and everybody has high hopes and expectations, and certainly we do as well," Self said. "So I like our team. I thought we got off to a pretty good start this past summer in South Korea and the World University Games and hopefully developed some valuable experience and gave some guys some minutes that will definitely be beneficial moving forward.
"But it should be a fun time. We've got a group of competitive guys, quite a bit of balance. It will be an unbelievable league again, just like it has been. Maybe as good this year as it ever has been. So certainly whoever is fortunate enough to be the last one standing (in league) will have to be very consistent and play well for a long time."
Of KU's play this past summer in winning gold at the World Games, Self on Tuesday reflected: "Wayne Selden, I think emerged as not a good college player, as a great college player over there. He was terrific.
"I think Hunter Mickelson got minutes that will make him a viable player in our league. So there were some key players that I think needed to get developed and get minutes that did. And I think that will probably help those guys as much as anybody else. Frank and Perry, it was fun and all those things, and they played in big games and had success, but those other guys needed that."
— Check out KUsports.com's live coverage from Big 12 Basketball Media Day.