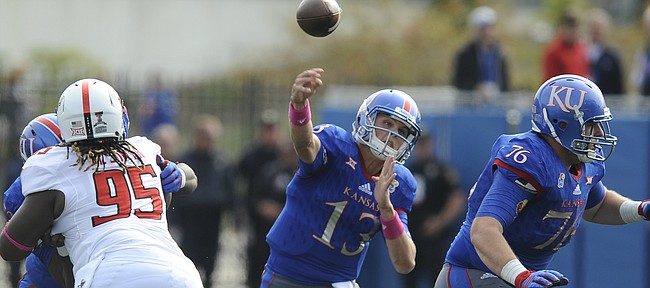 The greater the talent possessed by a young athlete, the quicker teammates can shake off mistakes of youth and concentrate on exciting possibilities. 
True freshman Ryan Willis made his share of mistakes in turning what had the potential to turn into a more-of-the-same blowout loss into a game, but the way he led Kansas University's winless football team back from the depths Saturday in a 30-20 loss to Texas Tech in Memorial Stadium is what will energize teammates through another week of grueling practice. 
Despite a solid first half from the defense, Kansas fell behind 20-0, the offense coming up empty because of problems with the kicking game and a pair of costly drops (an incompletion and a fumble) from receiver Darious Crawley. 
Willis came out firing in the second half, completing his first nine passes. He stayed hot and with the defense playing a terrific game against a potent passing game, Willis led the Jayhawks back into it, all the way to within 23-20. 
Photo Gallery
KU football v. Texas Tech
Images from Saturday's game between the Jayhawks and Red Raiders in Lawrence
Jah'Shawn Johnson sealed the victory by returning Willis' ill-advised throw into heavy coverage for a touchdown with 4:07 remaining. It was the cost of doing business with a quarterback confident enough to turn small openings into big plays. It didn't work this time, but that mentality worked well enough for Willis to complete 35 of 50 passes for 330 yards and two touchdowns in his second career start.
"I actually love that," said Crawley of Willis' willingness to take risks with aggressive throws. "There are times in a game you have to take chances and let your receiver go make a play. He gives us that opportunity." 
Willis impressed Crawley all day. 
Podcast episode
First-year Kansas football coach David Beaty explains why he was proud of how the Jayhawks played in a 30-20 home loss to Texas Tech.
"I knew he was on because I made some mistakes early in the game and I met up with him on the sideline, and he said, 'Hey, shake it off. I'm going to come back to you. We're going to get this rolling.' That right there showed me he was confident and ready," Crawley said. "A performance like this, it shows hope. We're going to learn from our negative plays that we had and our positive plays. Our defense played a great game. Offensively, we left a few points out there we could have had." 
A young talent, especially one playing the most important position, pumps positive energy throughout a team. Seeing Willis perform at such a high level so soon made Crawley "very excited. I told him on the sideline, 'You kind of remind me of a little Peyton Manning. Just keep throwing it.' He started laughing and said, 'All right, man let's get it. Let's go.' He loved it." 
Safety Fish Smithson, whose big day included an interception, 10 tackles and a 53-yard fumble return, said the fact that Willis, forced into the starting job when Montell Cozart was sidelined by a sprained shoulder, has done as well as he has, "speaks volumes about him as a player and a person. I can't say I would be able to do what he's doing as a true freshman. He's doing a great job for us. He's leading the troops. He's playing with confidence during practice and during the games. He'll come up to us and try to get us pumped up. If we see that from a true freshman, that just speaks volumes. He's very confident. He believes in himself and he believes in the system."
Kansas head coach David Beaty liked neither Willis' fumble in the end zone nor his interception, but he chose to discuss specifics with Willis after the plays, rather than undress him.
"The thing that I know about Ryan is he's young," Beaty said. "He's a freshman. And I know that screaming at him and not teaching him would be a complete mistake. So when he comes off and he makes a mistake, the first thing myself and Coach (Rob) Likens do is we start teaching. We talk about that teaching moment." 
All freshmen make mistakes. Willis bounces back better than most. 
"Man, I just love the kid's demeanor," Beaty said. "I think our kids gravitate to him. I think they really appreciate the fact that he loves the game."
Willis set freshman school records for completions (35), attempts (50) and yards (330).
 — Tom Keegan appears on The Drive tonight on WIBW-TV.
— See what people were saying about the game during KUsports.com's live blog.
---
More news and notes from Kansas vs. Texas Tech
---