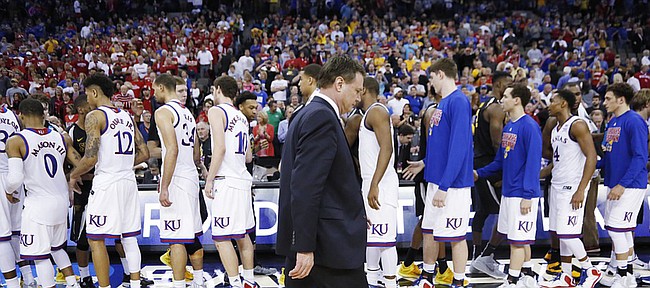 Before the Kansas University men's basketball team could begin to move forward toward another season loaded with great expectations and even higher hopes, the Jayhawks had to go through the process of putting the 2014-15 season to bed.
After suffering a third-round loss to in-state up-and-comer Wichita State last March and bowing out during the NCAA Tournament's opening weekend for the second year in a row, that meant different things for different players.
As the official beginning of the 2015-16 season looms, marked by the fast-approaching Late Night on Friday, a handful of Jayhawks shared their methods of choice that helped them get over another season-ending disappointment.
"Honestly, the thing that helps you get over it is just to not think about it," said junior Brannen Greene. "I mean, it's hard to do when you're so used to going straight to practice after class and going to weights and seeing coach every day. All of a sudden fans aren't Tweeting you any more, nobody's talking about the season any more. Other teams are playing. To get over it, it's really just time. There's no magic formula."
The closest thing to that seems to be getting back into the gym as quickly as possible.
"We start working out right away, maybe a day or two after it," junior Frank Mason III said. "Other than that, nothing changes. Still make it to class. Still around people on a daily basis. Just try to have a positive mindset and focus on next year."
For this year's team, moving on was made a little easier thanks to the opportunity to represent the United States in the World University Games in South Korea over the summer. Instead of having to wait more than six months to get going, Bill Self's squad was able to fire up its competitive juices a mere three months after that disappointing walk off the floor in Omaha, Nebraska, where KU was outclassed by Wichita State in the third round of the NCAA Tournament.
"It's always in the back of your mind until you're back in that situation," admitted senior Perry Ellis of those postseason disappointments. "But, this summer, getting a chance to play for that gold really gave us a lot of confidence and taught us how to win. And I feel like that's definitely a push forward for the season."
While that helped in the big picture, Ellis said the days that immediately follow a season-ending loss never get easy.
"It's a weird feeling, man," he said. "Knowing that you could still be playing and you're just sitting around. You really don't want to watch the games because you want to be in that situation. You just kind of want to sit around and get in the gym and get some shots up to kind of get your mind away from it."
Senior Jamari Traylor agreed and even went one step further.

"After it, I didn't even cut my TV on," he said. "You just have to get back in the gym and come in here a lot more focused."
Asked if he was worried that losing early in the tournament a couple of years in a row could make the Jayhawks desensitized to the disappointment that accompanies such endings, Traylor laughed.
"No chance we could get used to that," he said. "If you do, this ain't the place for you. We all want to win every game when we step out on the court. I know it's gonna be hard to go undefeated, but that's the mindset we have. Every game you go out there on that court, you should try to win it. Every time. And we've got a good chance of doing it. We're gonna make something special happen this year."