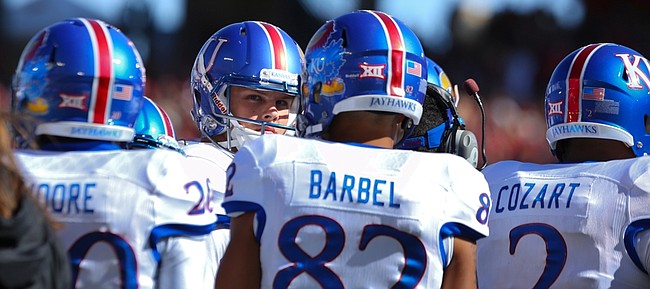 When Bishop Miege football coach Jon Holmes saw his former quarterback Ryan Willis step onto the field during the final few drives of last week's Kansas University loss to Iowa State, he recognized just about everything.
Same demeanor. Same poise. Same arm. Heck, even some of the same throws.
That's why Holmes did not hesitate to answer when asked by the Journal-World on Monday night if Willis, the KU freshman who is expected to start Saturday's 11 a.m. game against No. 3 Baylor at Memorial Stadium in place of injured starter Montell Cozart, was capable of handling such a big moment.
"I think he's ready," said Holmes of Willis, who finished last week's game 8-of-16 for 100 yards and has taken snaps in two of 0-4 KU's games so far this season. "One of the reasons why he went to KU was to get this opportunity."
The chance to play a bigger role officially came Monday afternoon, when KU revealed that Cozart, sidelined indefinitely because of a shoulder sprain, was out for this week's game, and junior Deondre Ford, who started KU's Week 3 loss at Rutgers, was out for the season due to a thumb injury.

That left Willis alone atop the Jayhawks' depth chart as the only KU quarterback with significant game experience. Junior T.J. Millweard, known primarily as KU's holder, and red-shirt freshman Keaton Perry, a walk-on, are listed as the second- and third-stringers behind KU's new No. 1 young gun.
"Obviously, he's the next man up, and his turn has come," KU coach David Beaty said of Willis after the Iowa State loss.
The depth-chart absence of true freshman Carter Stanley, who has been in street clothes for most of KU's games this season, seems like a clear indication that the Vero Beach, Florida, prospect will red-shirt this season.
As for Willis, he connected on a couple of deep balls against Iowa State and showed the zip on his passes that coaches and teammates have talked about since he arrived on campus. He also showed his inexperience by hanging in the pocket a little too long at times, taking a couple of hits in the pocket and on the run and being a little slow with his reads, which allowed the ISU defense to blow up KU's play calls quickly.
All of that, however, is to be expected from a true freshman. And Beaty said he and Willis were aware of it and already had discussed it.

"You learn the hard way pretty quickly," Beaty said after the ISU loss. "He got hit one good time, and he came to the sideline and said, 'I know. I gotta get down.'"
That mentality is more important than ever now, given the lack of talent and experience behind Willis. But Holmes said talking the competitive fire that inspires him to fight for every yard out of Willis was going to be a tough task.
The whole thing has a little déjà vu feel to it. Although they never played on the same team, Willis replaced Cozart as Miege's starter in high school. And in his two years as the Stags' varsity QB, he lost just two games. He never flinched when asked to replace Cozart, the Div. I signee, two-year starter and Gatorade Player of the Year. Instead, he went out and surpassed his numbers.
"Ryan didn't care," Holmes said. "That's the type of kid he is. He's his own person and wants to go out there and show people what he can do."
If that, in any way, is enough to inspire Beaty and company to keep Willis in the No. 1 QB spot even after Cozart returns — if this truly is the beginning of the Ryan Willis era at KU — Holmes said the new KU starter was as jacked as he could ever remember hearing him.
"When there's a billboard up on I-35 and I-70, he wants his face to be on it," Holmes said. "He's fired up ready to take this challenge on. Playing a Top-5 school may scare some people, but, Ryan, he's looking at it like a challenge and wants to see the things he can do well and the things he still needs to work on."
KU-Tech set for 11 a.m.
The Kansas football team on Oct. 17 will begin its weekly contest at 11 a.m. for the fourth consecutive week.
The Big 12 announced Monday that KU's home game against Texas Tech scheduled for that day would begin at 11 a.m. and be televised on FOX Sports 1.
The showdown with the Red Raiders will mark the Jayhawks' fifth 11 a.m. kickoff of the 2015 season and fourth in a row.