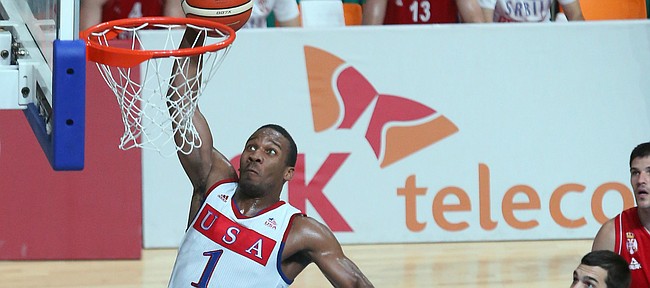 Kansas University junior guard Wayne Selden Jr., has been taking part in practice while continuing to recover from an ankle sprain, coach Bill Self said Monday.
Selden has been wearing a boot off the court as his ankle heals.
"He has an ankle sprain. The only reason he is in a boot is to immobilize it when walking around," Self said. "He has been practicing, yes. He's not 100 percent, though. He sprained it three weeks ago. We are hopeful by the end of the week he'll be much closer to full speed. He should be fine in a week or so."
Self said junior Brannen Greene has been practicing some. He's coming back from offseason hip surgery.
"We're bringing him back where he has limited reps," Self said. "For the most part, he's fine."
The Jayhawks have been practicing since Friday. Late Night in the Phog is Friday night.
"Practice is OK. The guys are trying hard," Self said. "We are putting too much stuff in too fast. Right now we're probably not doing anything very well because we're trying to think and concentrate on what we're supposed to do as opposed to reacting and playing. Not pleased with their effort; their attitudes have been great."