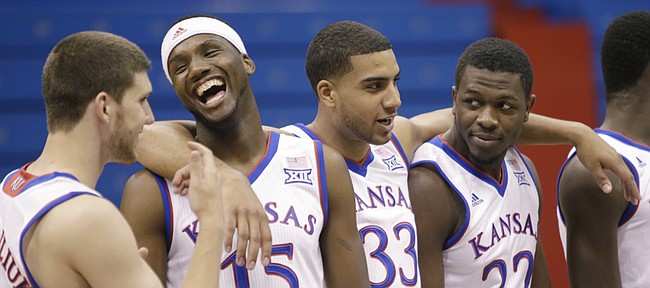 Cheick Diallo, the media learned Thursday, likes to talk about his lifelong love of soccer and dislikes discussing more depressing topics — like his ongoing basketball eligibility case with the NCAA.
"When I was young, we played soccer every day. We started at 10 in the morning, go eat lunch and come back and play again 5 to 9 (p.m.). Every day, no days off, even Sunday," said Diallo, Kansas University's 6-foot-9 freshman forward from Mali.
The popular KU Media Day interviewee started playing soccer at the age of 5. Defense and goalie were his main assignments.
Photo Gallery
KU Men's Basketball Media Day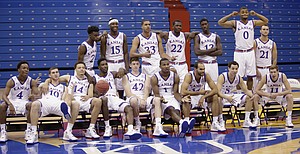 Images from KU men's basketball media day held on Thursday, Oct. 1, 2015 at Allen Fieldhouse.
"It helped me a lot, like my footwork," stated Diallo, who started playing basketball in 2010 when his dad, Mamadou Diallo, figured hoops might be a natural fit for his son, who was going through a growth spurt.
"I don't get tired. Playing soccer when I was younger ... I think that's helping me now," Cheick added.
Cheick Diallo, who came to the USA in 2011 and toiled four seasons for Our Savior New American in Centereach, New York, was cleared (by the NCAA) to practice with his new college teammates Wednesday. He had a somewhat shaky workout — "I got the flu on Sunday, and it was hard to breathe like normal," he explained — but was thrilled to just be on the court.
"I was so excited yesterday," said Diallo, who has not yet been deemed eligible for participation in games by the NCAA Eligibility Center.
Podcast episode
Kansas basketball coach Bill Self answers questions about the coming season, freshman Cheick Diallo's eligibility and the Jayhawks' potential at KU's annual media day.
Coach Bill Self shed some light on that, indicating KU was gathering information to present to the NCAA on Diallo's behalf, the decision obviously still a ways away.
"I don't really know. I don't want to say anything — bad stuff now — that's why I say I don't want to talk about it. I just want to play this year. I'm focusing on practice now and doing what I'm supposed to do," said Diallo, who will be allowed to play in next Friday's Late Night in the Phog.
When asked by a third wave of reporters if he's "frustrated" at the uncertainty, Diallo said: "Of course, but I cannot do anything about it. I'm not going to let it go like I want to quit, no. I just want to clear my mind and head."
He politely asked the media to direct any questions about his case to his coach.
Diallo, MVP of last year's McDonald's and Jordan Brand Classic all-star contests, was asked point-blank (if he qualifies) how long he planned to stay in college.
"I mean, I cannot talk about anything now. Maybe (it) can be four years," the possible one-and-done talent said.
Asked if he is the top player in his recruiting class, Rivals.com's No. 5-ranked player said: "If people are asking me ... yes, I am. I like to compare. I like to say I am the best ... I can say he is better than me, but if we play, everybody knows who is better. I can say I am the top player in the class, yes. I just feel like I am."
Known as an energetic player, Diallo showed that hustle at practice Wednesday.
"He gets out there and goes hard. We had to tell him to calm down a little," senior Jamari Traylor said with a smile, noting Diallo was a bit too active when defending senior Perry Ellis. "But it's easier to tell someone to turn it down a notch than to turn it up a notch."
As far as what he does well and what he needs to work on, Diallo responded, "Offense, that's basically easy. I can score either way," Diallo said. "I need to get more rebounds, more blocked shots."
Self said he'll enjoy working with the talented player.
"He's 7-foot-5 with length, and there's not too many guys out there plus-8 inches from height to length," Self said. "He's an athlete. He's got a motor. But he doesn't know how to play yet. Hopefully he'll be a great rim protector. The other thing that he can do that has been surprisingly good for us is that he's a good shooter. He's much more skilled than what a lot of people give him credit for. So that's exciting for us moving forward."
Remember, Diallo is a still-developing basketball player. He's born and bred in soccer, not hoops.
"I started at zero and have come to where I am now," Diallo said. "I didn't even like basketball. I thought it was a girls sport. In my country the only women's (national) team is (Mali's) women's team. Men's team? No. After two weeks, I said I've got to quit, I'm not getting better. One day said I'd figure out how to play basketball. Every morning (it was) jump shot, layup, jumping, running. It's helped me now. People say I run fast. That's just natural. Now I just love to play. I want to play for a long time."
About Diallo: Diallo knows former KU center Joel Embiid of Cameroon. "My sophomore year he was a senior. I was so excited to play against him. I was getting buckets. I got 29 (points). He got 20 something, made a lot of points too." Diallo said he and NBA player Embiid text each other often. ... Diallo has sent equipment back to his youth team in Mali. "In my country, it's different. A lot of people know how to play basketball, but don't have stuff, shoes, sneakers, clothes. They don't have the stuff, and they all want to quit. I figured out my whole team back home I'd bring a lot of stuff to them to support them."