Kansas State (4-6 overall, 1-6 Big 12) at Kansas (0-11, 0-8)
3 p.m. Saturday, Memorial Stadium • Game-time forecast: 37 degrees, cloudy, 42% chance of rain • TV: FOX Sports 1 (cable chs. 150, 227)
Log on to KUsports.com for our live game blog and follow our coverage team on Twitter: @KUSports @mctait @TomKeeganLJW and @bentonasmith
Keys for Kansas
1. Hey, somebody stop that QB

For the second straight week, the KU defense will have to worry about an opposing quarterback's ability to take off and run. The Jayhawks didn't fare too well against West Virginia, in a 49-0 loss, as QB Skyler Howard led WVU with 129 rushing yards (his career high). Today, K-State quarterback Joe Hubener would like to add to his 510 rushing yards and 11 rushing touchdowns on the season — a résumé that includes two 100-yard games and a four-TD effort against TCU. "I think we've got do a good job of making sure we're gap-sound," KU coach David Beaty said. "We get enough people in gaps to be able to stop that quarterback run."
2. No freebies
Obvious as it may seem, simply protecting the football would go a long way for Kansas in the Sunflower Showdown. In two of the Jayhawks' previous three games, they gave the ball away four times — both at Texas, in a 59-20 loss, and versus WVU, in a 49-0 shutout. Between those blowouts, TCU only had one takeaway against KU in a 23-17 Horned Frogs victory. "That's been a thorn in our side, as we've had our young quarterback take the reins," Beaty said of true freshman QB Ryan Willis, who has thrown five of his nine interceptions in the past three weeks. "We've turned the ball over, and we can not do that." K-State forced four second-half fumbles in a comeback victory over Iowa State last week and tends to win when it protects the ball. The Wildcats are 4-5 when finishing with two or fewer giveaways.
3. Buckle down in the red zone

No one doubts K-State will be able to move the ball on offense against a Kansas defense that has surrendered 270.9 rushing and 307.9 passing yards a game — both worst in the Big 12, giving KU the distinction of worst total defense in the conference, as well as all of FBS (578.8 yards surrendered per game). However, statistically, the Jayhawks have the best red-zone defense in the Big 12 in terms of percentage of scores allowed (76.4 percent). On 72 trips to the red zone, KU foes have scored 44 touchdowns and made 11 field goals. Successful on 93.2 percent of their trips inside the 20-yard line, the Wildcats rank second in the Big 12 in red-zone offense to Oklahoma State (94.2 percent).
Mega Matchup
No offense to Hubener and K-State running back Charles Jones (455 rushing yards, four touchdowns in his last six games), but when KU defensive coordinator Clint Bowen watches video of the Wildcats' offense, the offensive line is what pops. "I think they really play well as a unit," Bowen said of left tackle Cody Whitehair, left guard Boston Stiverson, center Dalton Risner, right guard Luke Hayes and right tackle Matt Kleinsorage. "Very seldom do you see a guy get turned free in the run game, do they miss a combo, do they miss a block. They work together well. I think it's the offensive line that makes them go." Beaty, too, remarked on the ability of the veteran group (four senior starters playing with red-shirt freshman Risner) to pushing back defensive lines routinely.
5 Questions with S Michael Glatczak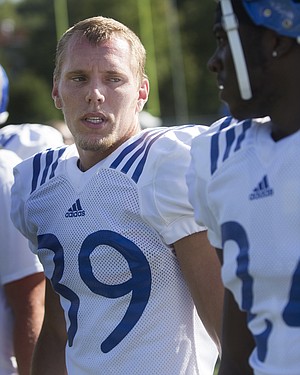 1. Growing up in Centralia, what's are your earliest memories of the Kansas vs. Kansas State football rivalry?
It's a pretty big rivalry around here. I live about an hour away from K-State, so all of my friends go there. A lot of my family members are K-State fans. It gets pretty heated when KU-K-State comes on.
2. Was there any point when you were younger that you were a fan of Kansas State football?
I've always been a KU guy. I've never really had hate towards them (the Wildcats) until I started getting older and everybody talks about them. But this would be a huge win for us.
3. Was walking on at K-State ever a consideration?
Coming from juco (Butler CC), my coach (Troy) Morrell, he kind of talked to them (K-State staff) about it. It was definitely either here or there. But I'm definitely glad I chose this road. My coach talked to one of their coaches up there, and he said they didn't have no more spots. Just right away, I was like, 'I'm gonna call coach (Clint) Bowen,' and he let me in the door.
4. Playing your first two college seasons at Butler CC, did you ever think you would have a chance to play and make an impact in a KU-K-State game?
Honestly, no. Coming from a small school, just playing juco football was pretty high for me. This is definitely a dream come true, playing in the Sunflower State Showdown. Playing last year, I only played special teams a little bit. So this'll be pretty cool. This is bigger.
5. This is your final college football game, what do you hope to get out of it?
For me, and including all the other seniors, this would be a huge win for us. No matter what the record is — if we're 11-0 or 0-11 — it's still our last game as seniors with this football staff. And for the future of this program, it'd be a huge win for them, too.
Jayhawk pulse
This is it for the 2015 Kansas Jayhawks and first-year coach Beaty. If they can't put together the perfect game plan and execute it today against rival K-State, they will become the first KU team to go winless over the course of an entire season since Chuck Mather's bunch finished 0-10 in 1954. In fact, that's the only year in program history Kansas didn't muster at least one victory. As much as the Jayhawks seem to trust the rebuilding process that is just getting started with Beaty and his staff, they have no interest in becoming an infamous footnote in KU's record books.