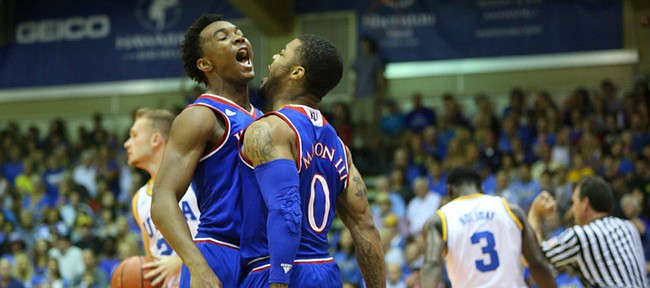 Lahaina, Hawaii — During the offseason, Kansas University point guard Devonté Graham worked tirelessly to improve his body, bounce and all-around offensive game.
Tuesday night, during a 92-73 slaughter of UCLA in the Maui Invitational semifinals at Lahaina Civic Center, the sophomore from Raleigh, North Carolina, showed with absolute certainty that all of that attention on the scoring end of the floor did not do any harm to his ability to defend.
Entrusted with the responsibility of slowing down UCLA junior Bryce Alford, Graham did more than that, limiting the high-scoring coach's son to just one shot and no points during a first half dominated by the Jayhawks.
Photo Gallery
Kansas basketball v. UCLA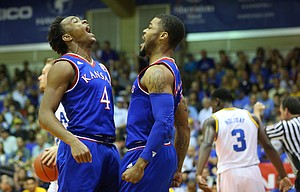 Images from the Jayhawks second-round matchup against UCLA during the Maui Invitational
You know that look guys get when they're on fire and just can't miss? Graham had that look on the defensive end throughout the first half, when he routinely set up in his explosive defensive stance mere inches from the bold, blue block letters on the front of Alford's jersey.
The cliché from head coaches who like to challenge players to become lock-down defenders sounds like this: "By the end of the night, I want to know what flavor of gum your man was chewing."
Tuesday night, Graham took Alford's gum, neatly disposed of it in the wrapper it came in and kindly replaced it with a stale mint.
"To me, the key to their team is cutting down on good opportunities for Bryce," KU coach Bill Self said. "Devonté did a great job on Bryce the whole night. (Alford) made one field goal and shot four free throws and I'm not sure he scored the second half. I thought that was as big a key as anything for us."
One night after scoring 20 points and helping lead the Bruins (3-2) to a hard-fought win over UNLV, Alford finished Tuesday's semifinal loss with six points on 1-of-6 shooting in a team-high 33 minutes.
In case just watching Graham frustrate Alford did not fully illustrate the first-year starter's worth in this one, watching what Alford did when Graham was out of the game hammered home his importance.
After picking up his second foul with 7:20 to play in the first half, Graham was sent to the bench. Junior Wayne Selden Jr. immediately stepped up to check Alford and the UCLA guard drove right at Selden for an easy layup at the rim. That bucket was Alford's only make of the night.
On the very next UCLA possession, Alford again drove to the paint and earned two free throws after being fouled. In the first 39 seconds with Graham out Alford scored four points after being held scoreless for 12:40 with Graham in the game.
"It was definitely a key to the game plan," Graham said of clamping down on Alford. "It was just: make things tough for him, don't let him be comfortable. And I just tried to make him make tough plays and shoot tough shots."
Graham's defensive prowess was not merely a first-half thing. Although the game was out of hand in the second half and morphed into what Self described as a game of "Horse," Graham remained strong and refused to let Alford get going.
The cherry on top of Tuesday's Alford sundae came with 10:58 to play, when the UCLA guard tried to use his body to bully Graham. Instead of pushing past him and getting into the paint, Graham slapped the ball out of Alford's hands near the elbow, secured the steal above the three-point line and pushed it ahead for another easy KU bucket.
"I thought they did a really good job," said UCLA coach Steve Alford of KU's defense on his son. "Bryce looked a little tired... But you gotta give Kansas an awful lot of credit. Just like everybody, different games people gotta learn some lessons, and I think he'll learn some lessons after he watches this tape."
The thought heading into the season was that starting Graham alongside junior Frank Mason III would take some of the pressure off of Mason and allow the junior jack-of-all-trades to become more of a scorer. It will and it has.
But if Graham can continue to turn in the kinds of defensive gems he provided Tuesday night, Mason likely will draw even easier defensive assignments throughout the season, as well, making him — and Kansas — even more dangerous.
— See what people were saying about KU vs. UCLA during KUsports.com's live coverage
---
---
---
More news and notes from Kansas vs. UCLA
---