The three guards who started for Kansas University in Tuesday's 79-73 loss to Michigan State, hit a combined 9-of-36 shots.
Devonté Graham (1-of-9), Wayne Selden, Jr. (3-of-12) and Frank Mason III (5-of-15) realize that 25 percent mark is not acceptable, especially against tough competition as presented by the No. 13-ranked Spartans.
"Me, Wayne and Frank ... we had a talk just among each other about us playing better," Graham, KU's 6-foot-2 sophomore combo guard from Raleigh, North Carolina, said Thursday.
"I feel we all played not as well as wee hoped to. We didn't shoot the ball well (and) late we didn't get stops. We've got to be better. We've got to learn from it and practice in the gym to get better," Graham added.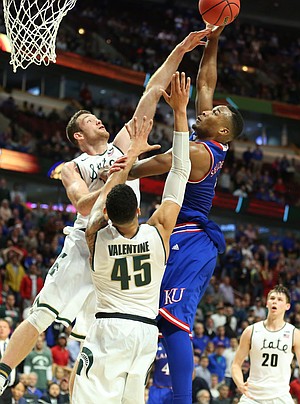 Graham has converted 4-of-20 shots and is 2-of-10 from three through two games.
"It's obviously bad," Graham said of the 20 percent shooting clip. "Coach (Bill Self) talked to me about it. He told me he can live with not making shots. I've just got to stay aggressive. Nobody has told me not to shoot the ball because they all have confidence in me, the guys, the coaches. I've been in the gym shooting even more now. I've just got to take 'em with confidence and believe I'm going to make it."
Graham had four assists, one turnover against MSU and for the year has 12 assists against two TOs.
"I think I was being aggressive but it (shot) wasn't falling, missing layups and stuff like that," Graham said of the MSU game. "I definitely have to work on finishing, maybe pulling up (for a) midrange jump shot and not going so far to the basket down there with the bigs. I think going forward it'll get better and start falling for me."
Of Graham, Self said: "Devonté tries hard. He just hasn't made any shots yet. We talked about that (Wednesday). I know he can shoot, can make shots. He was 1-for-9. He's trying to do exactly what we want him to do for the most part. He's a great kid, conscientious, tries to carry out assignments, is unselfish. When the lid comes off for him, it'll certainly look a lot better.
I'm pleased with him. I don't think you should judge guys 'if they make shots they play well well, if they don't make shots they don't play well.'I've been one of those guys who thought it is a good or bad shot when it leaves the hand, not whether it goes in."
Of KU's guard play versus MSU, junior combo guard Selden noted: "It wasn't good. Me, our starting guards, we didn't play well collectively. I feel you get two of three or one of three to pick up the slack ... that didn't happen.
"I've got to be more aggressive. I've got to get in the paint. I've got to rebound. I've got to be more a defensive presence. I've got to be louder. I've got to talk more. I can do better and will do better," Selden added.
That includes finding the bigs for easy baskets. KU's big men missed a batch of inside shots on Tuesday.
"Guys have actually been better in practice than they were in the game," Self said. "That's something I think we can become ... if not become great at because we do not have a Joel (Embiid), Markieff (Morris) or Cole (Aldrich) we can throw it to, we don't and we're not going to have that this year. We can certainly have guys that can finish close in. If guys struggle finishing from three or four feet with defense on 'em, the whole thing is trying to make it an easier shot. We actually did that fairly well, we just came away with very little. We'll get better at that."
This, that: Lagerald Vick (scratched eye), who couldn't play against Michigan State, should return to practice Saturday, Self said.
---
---
---
---