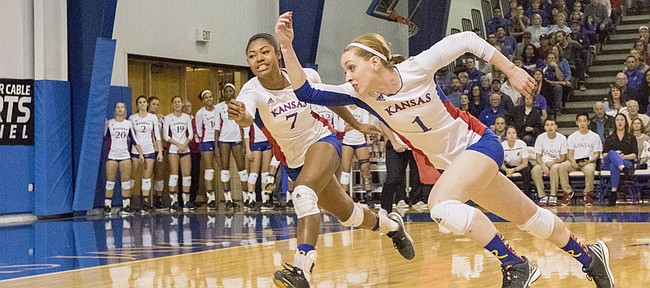 Losing to powerful Texas in a five-set thriller in a match for first place in the Big 12 Conference — before a loud sellout crowd Wednesday in Horejsi Center — made Kansas University's volleyball players feel just like one would imagine they'd feel.
"It hurts a lot," KU senior Tiana Dockery said after blasting 18 kills against three errors with 13 digs in the No. 10-ranked (22-2, 10-2) Jayhawks' 25-20, 20-25, 28-30, 25-22, 9-15 loss to the No. 5-rated (21-2, 11-1) Longhorns.
"But I felt our team did really well," Dockery quickly added.
Indeed ... KU's Kelsie Payne ripped 23 kills against zero errors and Tayler Soucie 16 kills against one error, while Janae Hall and Madison Rigdon had nine kills each. Ainise Havili dished 67 assists and Cassie Wait totaled 17 digs in a match that did not resemble Texas' 3-0 rout of KU on Oct. 23 in Austin.
"We were just discussing (in locker room) my sophomore year we played a five-set match against Texas. It's the year we went to the Sweet 16," Dockery said. "We talked about coming together as a team even more."
Or as Soucie said ... "we know what we can do. We know if we take care of our side, if we don't give them serves, don't make hitting errors, we take care of our stuff we can beat anybody. We can do a lot.
"A lot of us showed we can play. When we have everybody, who can stop us?" Soucie added.
KU had chances to win the third set. In fact the Jayhawks had set point twice. But UT, which has beaten KU 24 straight times, claimed the 30-28 win. KU battled back and won the fourth set. The Jayhawks trailed 4-3 in a fifth set KU coach Ray Bechard called "choppy," and never led the rest of the way in KU's first five-set match of the year.
"We played with a lot of will today, a lot of pride, went toe-to-toe with a high-level team," Bechard said. "We've just got to figure out how to make a few plays to get a different result."
KU will next meet TCU at 1 p.m., Saturday, in Horejsi, while Texas travels to Iowa State. TCU, which actually beat Texas, 3-0, recently, is in fifth place at 7-5, while ISU is in third at 9-3. Kansas State is 8-4 and in fourth place.
"One game up with four to play would have been fun," Bechard said. "We've got to take care of our business and hope we get a little help. It's not a position you want to be in. That's where we're at."