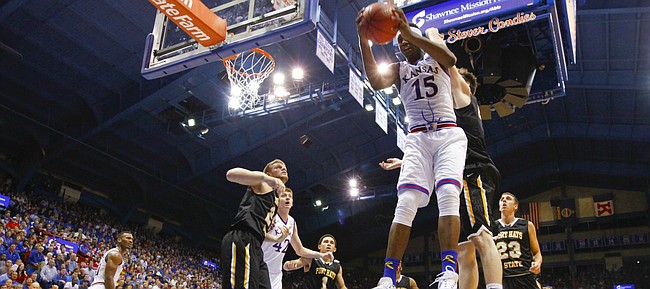 Fort Hays State men's basketball players had trouble against Kansas University's size and athleticism on Tuesday. At the Division-II level, there's not too many ways to prepare for it. 
The Tigers shot 32 percent from the floor, including 27 percent from deep, in a 95-59 loss to the Jayhawks at Allen Fieldhouse in the final exhibition game for both schools. 
"We shoot it a lot better than that," senior guard Craig Nicholson said. "We're not used to it. In practice, we don't face guys that long and athletic. That threw us off a lot."
The Tigers, who featured a starting lineup with only one player above 6-foot-5, had problems running their offense. They committed 18 turnovers and were outscored, 36-20, in the paint.
Photo Gallery
Kansas basketball v. Fort Hays State (exhibition)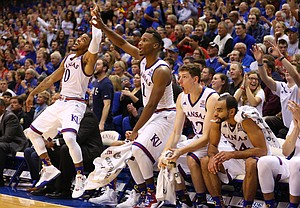 View a gallery of images from Tuesday night's game between the Jayhawks and Tigers at Allen Fieldhouse.
"They just bring so many bodies at you," Fort Hays State coach Mark Johnson said. "The size differential, athleticism and strength, it just kind of wears on you. You have such a small margin of error. Any time you have a bad couple of minutes, stretches, of basketball, they just get away from you so quickly."
Senior forward Dom Samac, who scored a team-high 12 points, added: "They're just really long. Really long and really athletic. They had a bunch of old guys, too. Three juniors and a senior in the starting five."
After the Jayhawks sprinted to a 10-0 lead, the Tigers responded with a 14-6 run. But a few missed shots and turnovers turned a small deficit into a 14-point hole by halftime. 
In the second half, the Jayhawks had a 28-10 run in the first 10 minutes. 
"I thought they really got out in the passing lanes against us," Johnson said. "The next pass was difficult for us. They blew up a lot of our screens — we didn't do a good job screening. They got after us and it was hard to us to really get into anything."
The Tigers faced some of the same problems during a 70-52 exhibition loss to Kansas State last week. 
"I felt that we had some open looks that we just missed," Johnson said. "There are a lot of freshmen out there playing, a lot of these guys were playing Kansas high school basketball last March and now they're put in Allen Fieldhouse, so that's a pretty big moment for them."
— See what people were saying about the game during KUsports.com's live coverage
---
More news and notes from Kansas vs. Fort Hays State
---