Tuesday, November 10, 2015
Bill Self during Tuesday's 95-59 exhibition victory against Fort Hays State did not wear a tie with his suit jacket. The Kansas University men's basketball coach said that's a first in his coaching career.
"I thought it looked absolutely awful when I put it on. I picked it out in the dark," Self said. "I thought I would get more comments on how bad it looked than questions about why I didn't he wear a tie."
Hip locks on Greene
Brannen Greene, who had offseason hip surgery, did not play. He suffered discomfort in his hip, back and legs at practice Saturday, describing it as his body locking up in those areas. He felt fine Tuesday until after warmups.
Photo Gallery
Kansas basketball v. Fort Hays State (exhibition)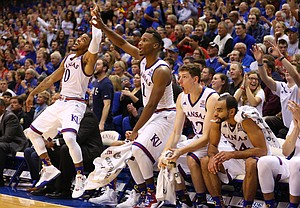 View a gallery of images from Tuesday night's game between the Jayhawks and Tigers at Allen Fieldhouse.
"He comes in after warmups and says he can't move," Self said. "Doctors don't think it's anything major but he's going to go through phases where he's up and down. I think it was a wise decision (holding him) because I don't think he could have played effectively."
Sweet socks
KU's players wore what Carlton Bragg called "camo socks" to honor America's Veterans on "Salute to Service Night."
"We appreciate all those who serve, the Veterans. I thought they looked good," Bragg added of the socks.
http://www2.kusports.com/photos/2015/nov/10/299094/
Signing period begins
Mitch Lightfoot, a 6-foot-9, 210-pound senior forward from Gilbert (Arizona) Christian High, who orally committed to Kansas University on Oct. 24, is expected to sign his letter-of-intent on Thursday, the second day of the week-long early signing period. Lightfoot, who is ranked No. 117 nationally by Rivals.com, tells Jayhawkslant.com that his school is not in session today, hence his signing ceremony will be held Thursday.
This, that
Wayne Selden Jr. flew into the stands chasing a loose ball. "The object is to take the fan out," Selden joked. "I tried to save it. That's the biggest thing." ... Wake Forest coach Danny Manning attended on a night his son, Evan, scored two points. ... Fans chanted "Free Diallo in the second half."
— See what people were saying about the game during KUsports.com's live coverage
https://www.youtube.com/watch?v=efSUELM3-vk
https://www.youtube.com/watch?v=tpgkh8N1LNY
---
More news and notes from Kansas vs. Fort Hays State
---