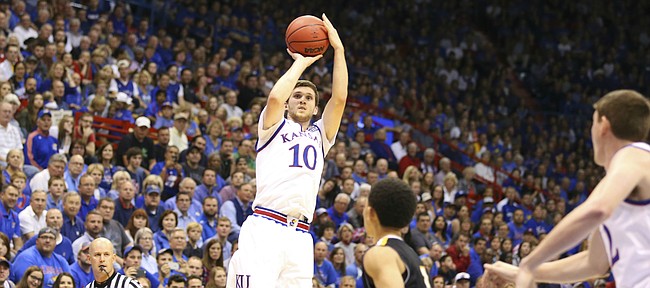 Nobody discouraged Kansas University sophomore Sviatoslav Mykhailiuk from firing shots from beyond the arc after his 0-for-3 effort in last week's exhibition opener against Pittsburg State.
Not his teammates, who have seen him light it up at practice.
And certainly not his coach, who envisioned bucket after bucket from deep when he recruited the 6-foot-8 Ukraine native.
"Coach (Bill Self) was like, 'Keep shooting and making shots,''' Mykhailiuk said after hitting five threes in eight tries, good for 15 points (in 21 minutes) in Tuesday's 95-59 victory over Fort Hays State in Allen Fieldhouse.
Photo Gallery
Kansas basketball v. Fort Hays State (exhibition)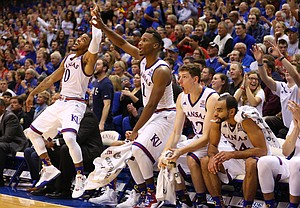 View a gallery of images from Tuesday night's game between the Jayhawks and Tigers at Allen Fieldhouse.
"He tells that to everybody: 'If you are open you can shoot.' He wanted me to be aggressive and keep shooting. The first game," Mykhailiuk added, "I was kind of far from the three-point line and not open. This game Frank (Mason III, 14 points, six assists) and Devonté (Graham, 11 points, four assists) were driving the ball well, which led to the open shot for me."
Mykhailiuk went 1-for-2 from three the first half and 4-of-6 the final 20 minutes.
"If you make the first one you believe you can make more," said Mykhailiuk, who canned a three to give the Jayhawks an early 16-5 lead. "I knew if I kept shooting I'd make a lot."
Podcast episode
Kansas basketball coach Bill Self says he's not "giddy" over the way KU closed its preseason with a 95-59 win over Fort Hays State, but he saw plenty of aspects that looked a lot better, compared to the Jayhawks' first exhibition. Self discusses Wayne Selden Jr.'s energy, Svi Mykhailiuk's three-point ...
Mykhailiuk hit 15 of 52 threes his freshman season for 28.8 percent. His personal best was three threes in a game on two separate occasions.
He's hoping to fare much better his soph campaign.
"This year will be easier for me. I'm more comfortable. I've got more confidence. It's my second year. I've been here a year," he said.
Podcast episode
Kansas basketball players Frank Mason III, Svi Mykhailiuk and Wayne Selden Jr. discuss why the Jayhawks feel better about their efforts in their final exhibition than they did after their first one.
Mykhailiuk's teammates are rooting for the personable player. Mason did a little dance after one of Svi's second half triples.
"I couldn't even tell you (why). I just did something. I was that excited, just happy for him," Mason said. "I was happy to see the ball go in for him, boost his confidence, which helps the team win."
Mykhailiuk grinned when asked about Mason's reaction.
"I saw it on the screen (videoboard) after," Svi said. "We cheer for each other, help each other. When somebody makes a shot, the bench cheers for the guy."
Self said the Jayhawks needed the shooting spree from Mykhailiuk with Brannen Greene missing the game after his hip locked up after warmups. Greene had offseason hip surgery.
"Svi was good. He almost got a loose ball, too. We would have been really excited about that," Self said with a smile on a night KU hit 10 of 21 threes and 60.4 percent of its shots overall to Fort Hays State's 32.3 percent. "He was aggressive. He's a ball mover and shooter and can put it down, but if he is focused on ball moving and shooting and lets those other guys get him some shots in transition, then certainly he would be better."
Mykhailiuk — he wore a sleeved T-shirt under his uniform for the second straight game for no particular reason — gave it a shot when asked if he reminds himself of any NBA player when he's on fire as he was on Tuesday night.
"I don't know, maybe Klay Thompson," he said of the 6-7 Golden State wing. "Manu Ginobili. I don't know," he added of the 6-6 San Antonio Spurs guard.
The Jayhawks will open the regular season against Northern Colorado at 7 p.m., Friday, in Allen Fieldhouse.
— See what people were saying about the game during KUsports.com's live coverage
---
More news and notes from Kansas vs. Fort Hays State
---