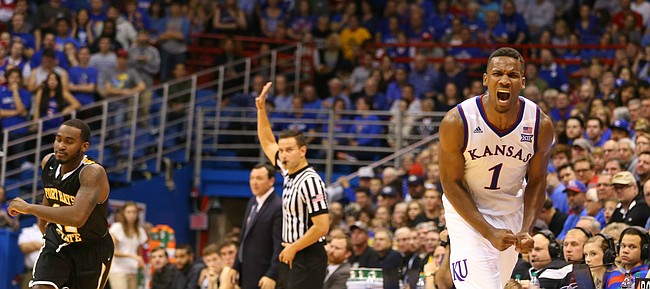 Fort Hays State forward Dom Samac efficiently explained Tuesday night what made Kansas University such a difficult opponent.
"They're long, they're athletic, and they've got a lotta old guys," Samac said. 
KU is always long and athletic, but doesn't always have "a lotta old guys."
Now that Kansas does, the Jayhawks can go from really stale to really crisp in less than a week's time. Veterans know the only way to soften the mood of the coach is to give him what he wants. With age comes the wisdom of knowing how to channel criticism into improvement, rather than growing defensive and rebellious, moving back before heading forward.
Mature college basketball players don't fight the coach, they fight the urge to let complacency to take root. KU defeated Pittsburg State but lost the battle against complacency last Wednesday. Six days later, they played with fresh batteries, moved with zip and moved the ball even zippier, if that's a word.
Photo Gallery
Kansas basketball v. Fort Hays State (exhibition)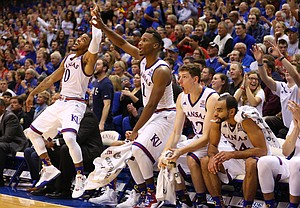 View a gallery of images from Tuesday night's game between the Jayhawks and Tigers at Allen Fieldhouse.
It felt like an even worse beating than the inverted score of 95-59 in a game played beneath far more empty seats than usual, even for an exhibition game.
The experience factor will benefit Kansas greatly after a couple of years of more celebrating on signing day than in March.
"Now, watching film you can really see what you do wrong and you can correct it," Selden said. "That was the biggest thing we did. We watched film and we all just made the efforts to correct what we did wrong the last game."
Podcast episode
Kansas basketball coach Bill Self says he's not "giddy" over the way KU closed its preseason with a 95-59 win over Fort Hays State, but he saw plenty of aspects that looked a lot better, compared to the Jayhawks' first exhibition. Self discusses Wayne Selden Jr.'s energy, Svi Mykhailiuk's three-point ...
The Jayhawks defended the perimeter better and whipped the ball around the perimeter and into the post with more success.
"It comes from bodies moving," Selden said of the ball movement. "It comes from Frank (Mason) and Devonté (Graham) and myself being aggressive, being in the lane."
Terrific ball movement led to .604 overall shooting, including .476 from beyond the three-point semi-circle.
Watching the Pitt State game on film, Selden probably felt a little like actor Kevin Costner does when he's watching one of his movies, speaking in monotone, barely showing a pulse, much less any talent for acting. 
Podcast episode
Kansas basketball players Frank Mason III, Svi Mykhailiuk and Wayne Selden Jr. discuss why the Jayhawks feel better about their efforts in their final exhibition than they did after their first one.
"We weren't really into last game," Selden said. "Even watching the film, myself in general, I just looked at myself and was pretty disgusted, (and) with how we looked as a team, too. The biggest thing was our effort wasn't up to par. So I really tried to make a big effort to have a lot of effort, if that makes sense."
Perfect sense. It's when people use the word "effort" as a verb that it gets annoying, such as "Kevin Costner needs to effort to put more life into his acting." 
Anyway, back to basketball. It's a good sign that a coach and his players are in synch so well that major corrections can take root in six days.
Northern Colorado, Friday night's season-opening opponent in Allen Fieldhouse, represents a major step up in competition, a welcome sparring partner in advance of the Michigan State game in the United Center next Tuesday night in Chicago.
— See what people were saying about the game during KUsports.com's live coverage
---
More news and notes from Kansas vs. Fort Hays State
---