Tuesday, November 10, 2015
Kansas University freshman basketball forward Cheick Diallo's legal guardian, Tidiane Drame, has hired Alabama-based attorney Don Jackson to assist him as Diallo attempts to gain eligibility, Jackson told the Journal-World on Tuesday.
"It comes as no surprise to me," KU coach Bill Self said Tuesday night, following the Jayhawks' 95-59 exhibition win over Fort Hays State. "We were all hopeful it wouldn't come to this, but I wouldn't blame 'em. If I was a parent, I'd do the same thing.
"We have representation that's fighting for him hard," Self added of Diallo, "but now they'll get double representation. It could get pretty interesting."
Interesting as in a possible lawsuit filed by Diallo against the NCAA at some point if they don't declare him eligible?
Photo Gallery
Kansas basketball v. Fort Hays State (exhibition)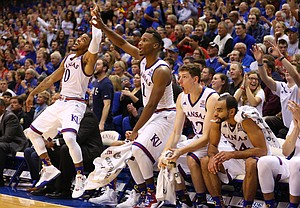 View a gallery of images from Tuesday night's game between the Jayhawks and Tigers at Allen Fieldhouse.
"I think from the perspective ... I've been told (they'll do) whatever it takes," Self said, "which I hate but hopefully it won't come to that. If it does come to that I wouldn't be surprised if they (Diallo, Drame and Jackson) take a pretty strong stance.
"Although Cheick has representation, this is going a big step further because now it'll be a situation in which we don't control what is being said," Self continued. "It'll be someone representing them with no interest in Kansas or the NCAA. We'll still fight for our university from that standpoint. Obviously they are not totally content the way the process or lack thereof has played out and the timing of it. They are going to fight for him."
Podcast episode
Kansas basketball coach Bill Self says he's not "giddy" over the way KU closed its preseason with a 95-59 win over Fort Hays State, but he saw plenty of aspects that looked a lot better, compared to the Jayhawks' first exhibition. Self discusses Wayne Selden Jr.'s energy, Svi Mykhailiuk's three-point ...
A Yahoo Sports report indicated Jackson had been hired by Diallo to work on his academic eligibility case with the NCAA Eligibility Center. Yahoo, in fact, indicated the NCAA has "received 2,000 pages of homework from Diallo's Our Savior New American high school courses, and has requested middle-school transcripts as far back as sixth grade."
However, Jackson told the J-W that at this time he is "formally representing his guardian (Drame)" as the NCAA looks into Diallo's relationship with Drame, who like Diallo is from Mali.
Podcast episode
Kansas basketball players Frank Mason III, Svi Mykhailiuk and Wayne Selden Jr. discuss why the Jayhawks feel better about their efforts in their final exhibition than they did after their first one.
"Obviously our goal is for the young man to be cleared," Jackson said, noting he could ultimately get involved in the academic side of the case.
"There's nothing to it at all," he added of Diallo's relationship with Drame. "More than one player is involved in the NCAA investigation, another man from Mali as well who is at St. John's, attended the same high school and is going through, to some degree, the same thing at this point."
Kassoum Yakwe, like Diallo, attended Our Savior New American in New York and, again like Diallo, has not yet been declared eligible for participation.
"Tidiane obviously has connections in Mali, assisting kids in coming to the U.S. to attend school here. He has a relationship with this young man's family and has had a relationship a number of years," Jackson told the J-W. "The reality of the matter is this is just an excuse to justify keeping this young man off the floor."
Asked if he will get involved in the academic side of Diallo's case, Jackson said: "We'll see. Hopefully he will be cleared at some point in the not so distant future."
As far as the NCAA Eligibility Center having yet to clear Diallo, Jackson, who has experience in these cases said: "Candidly, this time of year there's no credible explanation. I have been involved in literally dozens of these kind of cases including several now. There's no credible explanation the Eligibility Center has to drag an investigation that started in June and is now in November. If they had not found any justifiable basis in keeping the young man off the floor, they should leave him alone. When these investigations occur, it's a de facto suspension to keep the young man off the floor when there's no finding of improper conduct."
Self said he's OK with the Jackson coming aboard. "We fought our butts off. I'm frustrated but the whole thing is the NCAA knew this was going to happen," Self said. "You've got to give us something. You don't give us something they will take matters the best way they see fit. They are going to fight for the kid."
https://www.youtube.com/watch?v=GGvLexoF9nE
— See what people were saying about the game during KUsports.com's live coverage
https://www.youtube.com/watch?v=efSUELM3-vk
https://www.youtube.com/watch?v=tpgkh8N1LNY
---
More news and notes from Kansas vs. Fort Hays State
---