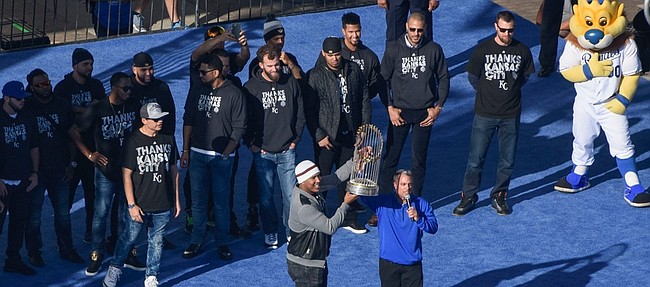 First-year Kansas University football coach David Beaty has proven to be quick to jump on an opportunity to congratulate another coach in athletics, be it a colleague, someone at a different school or even in a different league or sport.
KU coaches Bill Self, Brandon Schneider and Ray Bechard all have been on the receiving end of compliments from Beaty, whose genuine words are meant to showcase another's achievement at the school he loves.
Tuesday, a little less than an hour before a parade honoring the 2015 World Series champion Kansas City Royals took over downtown Kansas City, Beaty heaped his praise on the nearby baseball team, its manager and the front office that took a perennial loser and turned it into a champion.
"What a great day it is for (Kansas City) and a really great day for those guys," Beaty said Tuesday. "Big congratulations to all those guys, and particularly the management and players and all the folks that had that vision. They stayed the course. What a great story they are."
Podcast episode
KU football coach David Beaty talks about this weekend's game Texas and the parallel between KU football and the Kansas City Royals.
Offensive coordinator Rob Likens, a loud and proud fan of the New York Yankees, said he enjoyed getting a closer look at the Royals' rise during Monday's team meeting. He even was pulling for the Royals to knock off the New York Mets in the World Series and was especially thrilled when K.C. kicked American League East rival Toronto to the curb in the ALCS.
"That was really cool and it kind of put things into perspective," the first-year OC said of Monday's meeting. "The easy fix is not the way out. Whenever you try to go with the easy fix, most of the time it backfires on you. We're just enduring and going through that portion of it right now, just like they did."
Added Lawrence native and KU linebacker Joe Dineen: "The Royals were obviously not the greatest team in MLB a couple years back and now they're in front of 500,000 fans (in a parade) in Kansas City. They all trusted the process and they got to where they wanted to be. That's where we want to be. There's definitely a parallel between the two."
Comparing the Royals to the Jayhawks too heavily may draw laughs today. But there are similarities and Beaty is not afraid to point them out.
Like Kansas, which enters this week's game at Texas at 0-8 overall, 0-5 in Big 12 play and with a bunch of inexperienced and overmatched underclassmen playing key roles, the Royals once went through a similar stretch. Before Eric Hosmer was Mr. Clutch, Salvador Perez was the best catcher in the game, Alex Gordon was a perennial Gold Glover and Mike Moustakas became a name that everybody celebrated with bellows of "Mooooose" instead of a chorus of boos, the Royals had their struggles. Losers of between 87 and 106 games every season from 2004 through 2012, Kansas City, with high draft picks that had yet to pan out, took its lumps and lingered in the world of irrelevance both on the national and local levels.
In 2013, the club finished 10 games above .500 and built some momentum for back-to-back World Series berths in 2014 and 2015 before finally claiming a world championship a couple of nights ago. To say that's exactly the way things will go for Kansas football is to undermine the hard work, incredible talent and lucky breaks that helped Kansas City climb to the top of Major League Baseball. But to say it can't happen that way also seems naive.
"Our team meeting (Monday) chronicled them from 2010, 2011, 2012," Beaty said of the Royals. "We just talked about the maturation of that team and basically tracked the development from the farm league up, how they did it, what (manager Ned) Yost's vision was, what the management's vision was and how they stuck with it even when those guys were having a rough time for three years.
"It's amazing how the people that are there now were allowed to develop even when people were saying, 'Why are you pinch-hitting this guy? Why aren't you pinch-hitting for this guy?' Some really, really cool things happened throughout this season that, really, you can track all the way back to the beginning. We talked a lot about that (Monday) with our team, and I think it gives them some perspective on how you build something."