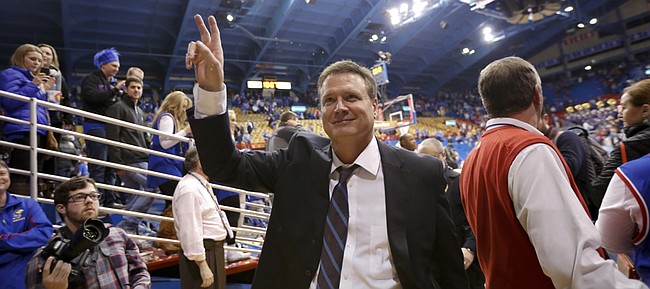 Bill Self has heard about 5,000 tickets have been sold for Kansas University's two World University Games exhibitions against Canada, set for 7 p.m., tips on June 23 and 26 in Sprint Center in Kansas City, Missouri.
"We hope to get about 10,000 in there both nights with people getting a chance to see their young Jayhawks. It would be cool to do that," KU coach Self said Wednesday morning on Kansas City 810 radio. It was one of three radio interviews held on a day spent publicizing the exhibitions as well as his basketball camps for youths (June 7-11; June 14-18) and Basketball Boogie for his Assists Foundation (June 13, Abe and Jakes).
Self can take a bit of a breather before gathering his players June 7 for summer school and unlimited practice sessions for the University Games, July 3-14 in South Korea.
"I want our guys to have a great educational experience. I want us to get better and I also want to get better personally (as a coach)," Self said on Lawrence 1320 radio. "I think with the FIBA rules and the short (24-second) clock ... I think there's a lot of different things we can do defensively to put us in a situation to experiment some. I think that will be positive. I want it to be fun, but we've got to win. I think our players will take great pride in the fact they are actually representing our country playing over there against pros. We'll go see how we stack up against the world."
KU is allowed a roster of 12 players. Foreign-born Svi Mykhailiuk and Cheick Diallo are not eligible to play for Team USA. Also, Brannen Greene will not participate as he rehabs from hip surgery.
Incoming freshmen Carlton Bragg and LaGerald Vick (if as expected he reclassifies to the Class of 2015) figure to be joined by SMU guard Nic Moore plus returning Jayhawks Frank Mason III, Wayne Selden Jr., Devonté Graham, Jamari Traylor, Landen Lucas, Perry Ellis, Hunter Mickelson, Evan Manning and Tyler Self. Those Jayhawks who do not play — KU is hoping to sign a transfer big man such as Providence's Paschal Chukwu of Nigeria who also would not be eligible — can still make the trip as team managers.
"I can see all three of our little guys (5-9 Moore, 5-11 Mason, 6-2 Graham) playing together. I can see two of them playing with Wayne. I think it'll be a fun deal," Self said. "What I will do, and our players will understand this, I'm going to play everybody. Even though we're going to play to win ... we're probably not going to do the platoon quite like Kentucky did last year (but) we're going to give everybody an opportunity to play and get better because some of our guys do desperately need some minutes," he added.
Self told Topeka 580 radio that "the good thing is when it is. Our season is so long, but this is June, July. The guys will have five weeks off before school starts (in August). They'll have plenty of chances to get their batteries recharged. It will be something I think makes us better.
"We are so limited in what we can do with kids in the summer. It's more than it used to be (two hours per week) but still not enough. In this situation we have unlimited practice time with our guys. We'll be doing a lot of things from an individual improvement standpoint where hopefully everyone will see a noticeable difference between last year and this year."
Of adding SMU senior Moore, Self explained: "With Brannen not able to go and Svi not able to go, our only returning perimeter players are Wayne, Frank and Devonté. If we get another guy (Vick) that would be four. You still can't play with four. That would put too much pressure on Evan and Tyler (walk-ons). We'll take all our returning players who are eligible to go. I wanted to get somebody else. Coach (Larry Brown, SMU) pushed Nic to go. He really wants to go. He's player of year in the American Conference which everybody knows is a great league. I'm excited to have him on board. He'll help us a ton."
The Canadian team, by the way, will practice in Lawrence the week leading up to the exhibition games.
"It won't include Wiggs (Andrew Wiggins) or Tristan Thompson or those guys as they will probably be with their Pan Am Games team," Self said, "but it is a team of pros. Melvin Ejim (Iowa State) is on the team and Brady Heslip. Ticket sales are going well."
For ticket information call 1-800-34-Hawks or go to the Web address http://www.sprintcenter.com/events/detail/ku-vs-team-canada. To order tickets for Self's boogie, go to basketballboogie.org. To assure spots in upcoming camps, go to billselfbasketballcamp.com.
24 and under: Self noted that players must be age 24 or under by the end of the calendar year to be eligible for the World Games.
"We have some kids we'd love to have taken with us whether it be Travis (Releford) or Elijah (Johnson) or Tyshawn (Taylor) or whatnot who can't go because they are too old," Self said. "Guys under NBA contracts presently are not allowed to go so we decided to take our team. It'll be tough. Northern Iowa went once and Wisconsin went once. I think both teams failed to get in medal play because the competition is so stiff. We'll have to be prepared to play."
Self on newcomer Cheick Diallo: "He is an energy guy, a legit 6-9 with a 7-2 wingspan. He's one of those guys who doesn't play harder (just) because the game is close at the end. He will play at the same pace from the opening tip. I think he's as good as any young big kid out there."
List for Chukwu: Providence transfer Paschal Chukwu has added Iona to his list of schools, Zagsblog.com reports. The 7-footer is also considering KU, Michigan State, Nebraska and Virginia, Zagsblog reports.
Jordan or James?: Self was asked by 810 radio which player was better, Michael Jordan or LeBron James.
"I personally think Mike is still the greatest, still the best," Self said. "No question he (James) is going to be in the same category. I just don't think to this point in his career, when he's great and Michael's great (but) I'd take Michael every day. LeBron can do it rebounding. He can do it passing. He can do it scoring, but the hardest thing to do is to score. Mike could get his own shot every possession and that's what great players do. Kobe (Bryant) to me that's what he does best, get his own shot. LeBron can too, but not to the level those other guys can. If I was going to start a team, with the exception of Michael, I don't see how you can pick anybody other than LeBron when he is at his best."
Self said Keith Langford was the best player he's coached at KU "driving the ball." He said Sherron Collins was "the best at squaring a guy up and getting (a defender) on his heels and rising up. I don't think people knew what a bad boy he was," he gushed of Collins.