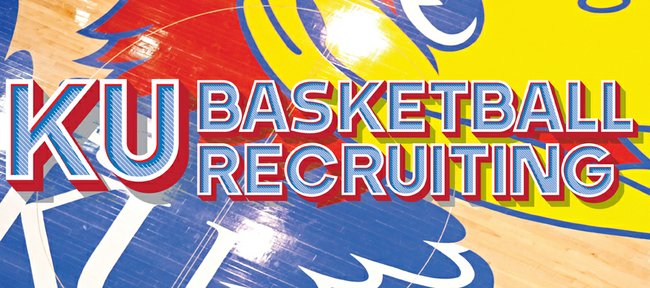 Future Kansas University basketball guard LaGerald Vick ranks fifth in scoring on the Under Armour Association spring circuit following a productive weekend for Team Thad AAU in New York.
Vick, a 6-foot-5, 175-pound shooting guard from Memphis, Tennessee, who committed to KU on May 17, averaged 26.8 points in four games for 3-1 Team Thad, which has advanced to UAA's season-ending Finals in July in Atlanta.
Through 12 games on the circuit, Vick has averaged 17.8 points off 50.3 percent shooting.
He has made 24 of 58 threes for 41.4 percent and 27 of 45 free throws for 60 percent.
He also has averaged 5.9 rebounds, with 19 assists against 18 turnovers.
"Kansas commit LaGerald Vick is a legit talent," wrote Eric Bossi of Rivals.com, who attended the New York event. "The 6-foot-5 shooting guard is ranked at least 100 spots too low (he's currently No. 137) if he decides to stick in the class of 2016 and should be considered as a talent in that range if he moves to 2015. He can create off the dribble, is quick and has deep range on his shot. Vick is quite thin and the lack of strength could be an early obstacle for him in the Big 12, but he's an offensive talent," Bossi added.
Vick is expected to announce soon his decision to reclassify to the Class of 2015 or stay in the Class of 2016.
"A final decision could be made mid- or late this week," Team Thad coach Norton Hurd told Zagsblog.com.
For a mixtape of Vick's play in New York go to http://ljw.bz/1SztYpH
Ballock update: Eudora High junior-to-be Mitchell Ballock's KC Run GMC team went 3-1 over the weekend, but fell just short of advancing to the Finals in Atlanta. Run GMC lost a tiebreaker for a spot in the prestigious event.
Ballock, a 6-4, 175-pound shooting guard who is ranked No. 23 in the Class of 2017 by Rivals.com, had a 30-point scoring game in one of his 12 spring games, sixth-highest output by a player in the Association.
Overall, he's 41st in scoring at 10.4 points a game with 11 threes in 43 tries.
After a tourney in early May, Bossi wrote of Ballock: "After developing an early reputation as a shooter, the product of Eudora High has shown that he's actually more of a creator off the dribble. Ballock is a strong athlete and very skilled as a ballhandler and passer. He got to the rim, found teammates, made pull-ups and then stepped out to hit three-pointers. Ballock also showed to be a tough competitor playing through ankle and groin injuries suffered throughout the weekend."
Ballock has received offers from KU, Kansas State, Oklahoma, Oklahoma State Iowa State, Indiana, UNLV and others.
Top guy: The No. 1 player in the Class of 2016, Josh Jackson, hasn't disappointed on the Under Armour circuit. He has had a 41-point game, tops in three events, and overall is second in scoring at 19.2 ppg.
Jackson, a 6-7 senior-to-be shooting guard from Prolific Prep in Napa, California, scored 24 points and grabbed 14 rebounds for Detroit One Nation on Sunday in a victory that assured his team a spot in the Finals. Jackson has KU on his early list of schools.
"Despite struggling with his jump shot for much of the spring, Jackson was on target Sunday. He hit from deep, he hit from mid-range and then he used his explosive athleticism to finish with emphatic slams. As much as he can do offensively and in the open floor, Jackson is also a leader. He communicates with his teammates and he is a fiery competitor who is every bit as good defensively as he is any other aspect of the game," Bossi wrote.
Up-and-coming player: The leading scorer on the Under Armour circuit is not yet ranked.
Kameron McGusty, a 6-5 senior-to-be from Seven Lakes High in Katy, Texas, who goes by the nickname "Killa Kam" averages 23.0 points a game off 49.5 percent shooting. He has made 11 of 43 threes for 25.6 percent. McGusty, who plays for the Houston Defenders, is being recruited by Oklahoma, Texas and others.
"At 6-foot-5 he can really create off the dribble, is aggressive and is among the best in the class at moving without the ball. He's made a play to move into at least the top 75 in 2016 and is maybe even pushing for top 50 status," wrote Bossi.