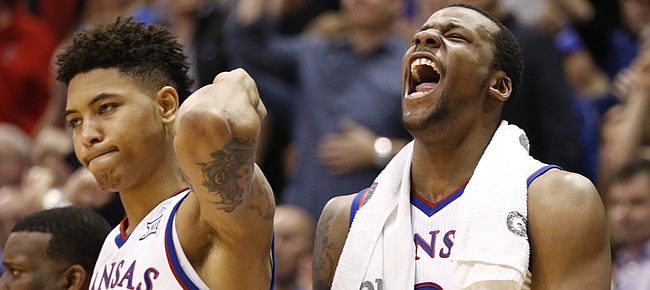 Former Kansas University basketball players Cliff Alexander and Kelly Oubre Jr. were measured by NBA officials on Wednesday — the first day of this week's Draft Combine in Chicago.
Oubre, who is projected to be selected No. 13 in the first round by Draftexpress.com and No. 11 by NBAdraft.net, measured 6-foot-6 3⁄4, 203 pounds in shoes. He was listed 6-7, 200 at KU.
Alexander, who is projected to be chosen No. 27 in the first round by Draftexpress.com and No. 5 in the second round by NBAdraft.net, checked in at 6-8 1⁄2, 239 in shoes. He was listed 6-8, 240 at KU.
Oubre in Chicago had a 7-2 1⁄4 wingspan and 8-6 1⁄2 reach, with 5.7 percent body fat. Alexander had a 7-3 1⁄2 wingspan and 9-1 1⁄2 reach, with 5.8 percent body fat. Oubre's hand length was 9 inches and hand width 8 3⁄4 inches; Alexander's hand length was 9.5 inches and width 10 1⁄4 inches.
Oubre at P3: Oubre has spent the last four weeks working out with several other NBA Draft hopefuls at Peak Performance Project in Santa Barbara, California.
"I'm working on agility things, becoming faster, becoming a more well-rounded athlete," the New Orleans native told Draftexpress.com.
"Pretty much every day we work on different things, getting stronger, upper body, working on my core so that when I do certain moves I can drive my hips more. It's helping me be a stronger player and more aggressive on my attack moves."
Oubre works out three times a day.
"It's not much different (from training at KU)," Oubre told Draftexpress.com. "Andrea Hudy (KU) is one of the best strength coaches in the country. She pretty much had us doing a lot of the mobility things we are doing at P3. It kind of translated a little bit. I can see some of the similarities that we did at Kansas here.
"I'm not taking days off and not taking short cuts, just focusing on my body, eating right, things like that. Those are things that will give me the edge, give me the step up on other athletes."
Oubre, who averaged 9.3 points and 5.0 rebounds in his one season at KU, has high hopes for the June Draft.
"I want to go top-seven," he said. "It's definitely one of my goals. They have great players in this draft. No knock to anybody, but I feel I'm the hardest working guy in this draft because I have a chip on my shoulder. I've always had a chip on my shoulder. I know the importance of this draft, the importance of people saying where I'm going to go. I want to prove people wrong. I have a lot of confidence in myself. I'm going to show everybody what they said I couldn't do. That's definitely my main motivation."
For the Oubre interview with Draftexpress.com go to http://ljw.bz/1EEAFxm
Learning: Oubre on Wednesday told NBA.com he learned a lot in his one season at KU, one in which he played single-digit minutes in five of the first seven games, becoming a permanent starter in the 10th game.
"When I was sitting on the bench at Kansas it was pretty much opening up my eyes (to see) the world doesn't revolve around myself," he told NBA.com. "I have to abide by a team's process, and pretty much I did so. I just believe I can compete at the highest level. My determination and my drive and my work ethic is second to none. I believe I can make a heavy impact at the next level."
Alexander looking good: ESPN's Chad Ford watched Alexander participate in drills with Wisconsin's Sam Dekker, Georgia State's R.J. Hunter, Arkansas' Bobby Portis, Wyoming's Larry Nance Jr., Texas' Jonathan Holmes and Gonzaga's Kevin Pangos on Tuesday at University of Illinois-Chicago.
"We haven't seen Alexander play since Feb. 23. Kansas sat him down after the NCAA began investigating his family for receiving improper benefits. The damage was twofold. Not only did we not get to see Alexander play down the home stretch just as he was beginning to improve, but the investigation forced him into the draft before it was ideal. Now teams are scrambling to figure out where he should go," Ford wrote.
"Everyone knows he has a NBA body, crazy long arms and tries to dunk everything. His length and motor are probably his two best characteristics. But after that, what sort of basketball player is he? What else does he bring to the table?
"One thing I saw in workouts here that I didn't see much of at Kansas was a nice 10- to 15-foot jump shot Alexander was consistently knocking down in drills. He rarely shot it from there at Kansas and the assumption was he didn't have that sort of range. But it was clear from the workouts he's comfortable with that jump shot. He's in no way a stretch four, but there's more there than meets the eye."
Washington on radar: Kyle Washington, a 6-foot-9, 225-pound sophomore forward from North Carolina State, has KU on his list of possible transfer destinations, Rivals.com reports. Washington, a native of Champlin, Minnesota, is also considering Iowa State, West Virginia, Marquette, Arizona State, Butler, Cincinnati, Iowa, Providence and Xavier. He was ranked No. 93 nationally in the Class of 2013 by Rivals.com.