Lawrence High football coach Dirk Wedd has a new nightly routine these days. He picks up his phone to call up lineman Amani Bledsoe and talk about the junior's schedule for the coming day.
Tuesday night, Wedd reminded the 6-foot-5, 265-pound defensive end that coaches from Oregon, Iowa, Arkansas and Oklahoma would be dropping by to say hello to the four-star recruit, Rivals.com's No. 1-rated player in the Sunflower State's Class of 2016.
According to Rivals, the senior-to-be already has scholarship offers from Florida State, Ohio State, Nebraska, Notre Dame, Oklahoma, Oklahoma State, Iowa, Arkansas, Kansas, Kansas State and more.
"Every day is total chaos with that many schools interested in him," Wedd said. "And they all think they have a shot, because he's basically open-minded to everything."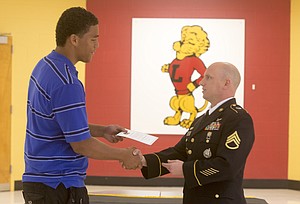 At this juncture, Bledsoe, recognized Wednesday at LHS as one of 400 nominees for the 2016 U.S. Army All-American Bowl, has no short list or timetable for making his decision. In his words, his recruitment is "wide open."
Brief as his encounters are with coaches from all over the nation, Bledsoe likes that he can start to establish some relationships and get a feel for different programs that are interested in him.
"It's pretty crazy, but it's also fun at the same time," Bledsoe said. "You've just gotta find that balance."
It can all become a bit overwhelming at times. Wednesday the coveted Lion couldn't even remember which schools he met with the prior day.
Bledsoe has yet to establish any favorites or publicly name any specific coaches or programs that have impressed him.
"They're all kind of the same right now," he said.
According to Wedd, the quiet young lineman carries himself with modesty and all the other qualities coaches look for in a player.
"He's amazing. He's handling it really well," Wedd said. "At some point he's gonna have to whittle it down to a workable number."
Bledsoe said he's still trying to decide which universities he'll visit. He did, though, attend KU's spring game a couple weekends ago and met defensive line coach Calvin Thibodeaux.
"I definitely see a change in how stuff's working around there with (head coach David) Beaty," Bledsoe said. "I feel more energy with the players and coaching staff. That's what I like to see."
While receiving attention from some of the most prominent programs in the nation, Bledsoe also hears occasionally around Lawrence from people who don't want him to leave the city.
"It goes back and forth. There's people that don't want to get in your hair and let you make your own decision," the junior said, "and then you've got those people who are like, 'Come on. You can be a hometown hero.'"
Bledsoe and Wedd will keep busy throughout May, as more coaches come to visit. Plus, each program can make a call to the recruit.
The high-profile lineman with the low-key attitude won't rush the process.
"I'm just gonna do what's best for me," Bledsoe said.