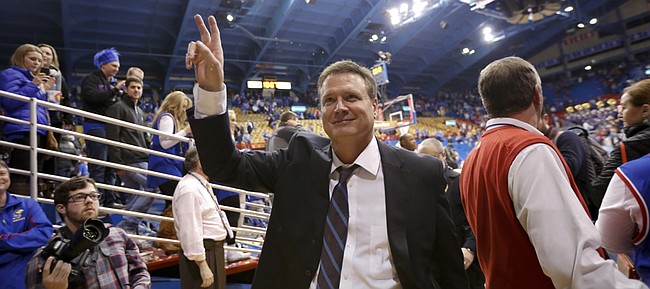 A trip to Hawaii for the Maui Invitational, a Champions Classic clash against Michigan State in Chicago, a road contest versus San Diego State and a home game against a yet-to-be-determined foe in the Big 12/SEC Challenge highlight Kansas University's 2015-16 nonconference basketball schedule, which was released on Thursday.
Possible foes in the Nov. 23-25 Maui Invitational: former KU All-American Danny Manning's Wake Forest Demon Deacons, former KU assistant coach Kevin Stallings' Vanderbilt Commodores, 2015 NCAA Tournament teams Indiana, St. John's and UCLA, plus UNLV and Chaminade. Pairings will be announced this summer.
The Michigan State game, set for Nov. 17, is a rematch of last year's Orlando Classic final, which KU won, 61-56. The Spartans went on to reach the Final Four. San Diego State, which will play host to KU on Dec. 22, returns three of its top five scorers off a 27-9 squad that won the Mountain West Conference title.
There have been rumors that KU could possibly meet Kentucky in the Big 12/SEC Challenge, which will be Jan. 30 in Allen Fieldhouse. Pairings should be released in coming weeks.
The Jayhawks will meet Oregon State on Dec. 12 in Sprint Center in Kansas City. OSU returns all five starters off a 17-14 team. Coach Tommy Amaker's Harvard team, which visits KU on Dec. 5, has reached the NCAAs four straight seasons and went 22-8 last year.
Montana, which visits Allen on Dec. 19, went 20-13 last season, losing to Texas A&M; in the first round of the NIT. KU will face another NCAA Tournament team in UC Irvine on Dec. 29. The Anteaters of the Big West went 21-13 last year and return 7-foot-6 center Mamadou Ndiaye.
KU will also meet Northern Colorado on Nov. 13, Loyola of Maryland on Dec. 1 and Holy Cross on Dec. 9 in Allen. Holy Cross went 14-16, Loyola 11-19 and UNC 15-15 last season.
The 31st-annual Late Night in the Phog will be Oct. 9. The Jayhawks' exhibition games will be against Pittsburg State (Nov. 4) and Emporia State (Nov. 10).
"It's obviously another solid schedule," KU head coach Bill Self said. "The last two years we played the toughest schedule in the country. This year we feel like, once again, this will be a schedule that will be one of the nation's best. What jumps off the page is Michigan State, who went to the Final Four, all the possibilities of matchups at the Maui Invitational and the other teams who advanced to the postseason like Harvard, San Diego State, Montana and UC Irvine. San Diego State has always been a national power. The Big 12/SEC Challenge game, which we will host, and all the others will certainly be great preparation for us going into what will, once again, be a terrific Big 12 Conference slate," Self added.
First-rounders: Self has heard positive reports on Cliff Alexander and Kelly Oubre Jr., who figure to be first-round picks in the June NBA Draft. Draftexpress.com says Oubre will be selected No. 12 and Alexander No. 27 in Round One.
"They both are going to be drafted high. I think Cliff has a chance to sneak in there (first round) and Kelly has a chance to sneak in the lottery," Self told Big12sports.com at the Big 12 meetings in Phoenix.
Of his own team and incoming freshmen Carlton Bragg and Cheick Diallo, Self said: "We were thin up front last year from a production standpoint. Carlton is a very good face-up four-type man, and Cheick is kind of an energy guy that can do a little bit of everything, especially defensively and rebounding. We think both will have a huge impact for us. And we've got Perry Ellis back, Jamari Traylor, Landen Lucas, Hunter Mickelson — we've got some experience coming back, but it's nice to have two athletes like this, because we were missing that last year."
Of last year's 27-9 squad, he said: "I probably changed too much last year. We became an inside-out team, and then obviously the last half of the season we were an outside-in-type team. We still wanted to play through our bigs but not like we have in the past. I don't think we ran near as good of offense last year, so hopefully personnel will allow us to do some different type things."
Option for one-and-doners?: A California-based group says it will offer 2015 McDonald's All-Americans $700,000 to play for an independent pro team called the Las Vegas Dealers.
The team owner says it will play 35 games in Las Vegas against European League teams and would also go on a 15-game tour of Europe.
Team owner Cerruti Brown told Las Vegas FOX 5 TV that some current McDonald's All-Americans are being contacted to sign up for the 2015-16 season, to begin in October.
"We don't see any problems in landing the right kids. Now, I'm not going to say we'll have 10 of the top 25 kids this year, but I'm going to go on record as saying we're going to have five," Brown told the TV station.
On the league's Website (lvdbasket.com), it says McDonald's All-Americans will earn $700,000, underclassmen with college eligibility $400,000 and free agents $100,000 for the upcoming season.
"College is not for every young man that is trying to use basketball to provide a better situation for their families," says owner Cerruti Brown. "Our innovative model targets the McDonald's All-Americans who are projected first-round prospects by NBA scouts and general managers. This concept allows for the highly touted player to bypass college and immediately become a paid professional. We are able to offer competitive salaries averaging around $700k to the highly touted McDonald's All-Americans who are typically 'one and done' players and $400k for college underclassmen. The Dealers' niche will be based on giving basketball players a different option than what is presently offered in America. Before this, underclassmen had to either play college ball or go overseas. Venturing to Europe will not be a necessity when a U.S.-based organization will play top European teams."
KU NONCONFERENCE SCHEDULE
Friday, Oct. 9: Late Night in Phog.
Wednesday, Nov. 4: Pittsburg State (exhibition).
Tuesday, Nov. 10: Fort Hays State (exhibition).
Friday, Nov. 13: Northern Colorado.
Tuesday, Nov. 17: Michigan State in Chicago.
Monday, Nov. 23: TBD, Maui Invitational.
Tuesday, Nov. 24: TBD, Maui Invitational.
Wednesday, Nov. 25: TBD, Maui Invitational.
Tuesday, Dec. 1: Loyola of Maryland.
Saturday, Dec. 5: Harvard.
Wednesday, Dec. 9: Holy Cross.
Saturday, Dec. 12: Oregon State at Sprint Center.
Saturday, Dec. 19: Montana.
Tuesday, Dec. 22: at San Diego State.
Tuesday, Dec. 29: UC Irvine.
Saturday: Jan. 30: TBA in Big 12/SEC Challenge.