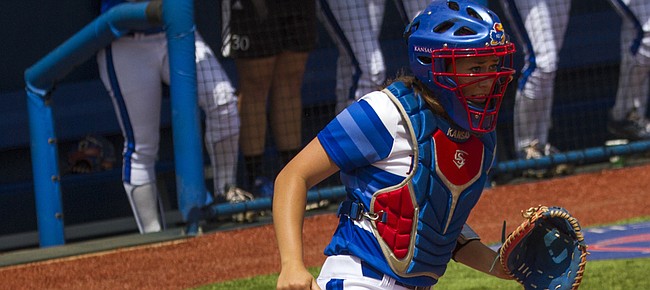 Kansas University's first regular season at Arrocha Ballpark at Rock Chalk Park concluded Sunday with a 7-0 loss to No. 14 Baylor.
BU starting pitcher Heather Stearns stifled Kansas' offense, limiting the Jayhawks to two hits: singles from Taylor McElhaney and Briana Evans.
"You have to give her credit for throwing well, but I certainly think we could have done a better job sticking to our game plan," Kansas coach Megan Smith said. "Offensively stepping into the box, when you face a pitcher of her caliber, you have to be locked in, and you have to know what you're doing and have a game plan and stick to it. I felt like we were very quick to abandon our game plan, which is hard to do against such a good pitcher."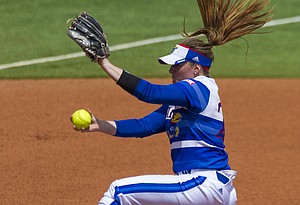 While the Jayhawks (35-13, 5-10 in the Big 12) struggled to get a good read on Stearns, the Bears' plate discipline allowed them to do some damage against KU starting pitcher Alicia Pille.
Baylor (37-13, 11-4) capitalized on two four-pitch walks by Pille and a throwing error by third baseman Chanin Naudin for the only run it would need, in the top of the first.
Pille (21-6) found the strike zone over the next four frames, but Baylor plated another in the sixth and five in the seventh to blow the game open late.
"We gave some free bases away, and they made some good adjustments on Pille," Smith said. "I thought Pille threw really well until the end and just kind of couldn't catch a break their at the end."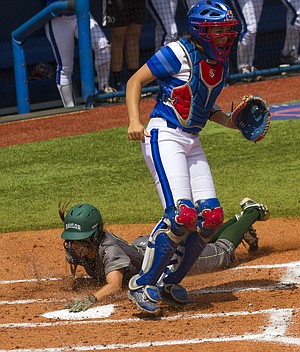 Pille tossed 6 2/3 innings, allowing seven runs on 10 hits while walking seven and punching out six. Aside from the throwing error in the first, the Jayhawks played stellar defense behind Pille. With the wind gusting up to 25 mph, it was not an easy day to be an outfielder, but KU left fielder Shannon McGinley was able to make a sliding catch on a Lindsey Cargill fly ball in the third.
"The wind you can tell today had really picked up, and it was a difficult day for outfielders," Smith said. "I thought she did a great job of not giving up on that on that ball and going all-out for it."
The setback for the Jayhawks completed a three-game sweep by the Bears and extended KU's losing streak to five. Kansas will end the regular season with a three-game series against Iowa State, Friday-Sunday in Ames, Iowa.
"We've got three days to get better before we play Iowa State," Smith said. "We've got to get better this week."
Baylor 100 001 5 — 7 10 0
Kansas 000 000 0 — 0 2 1
W —Heather Stearns, 18-9. L — Alicia Pille, 21-6.
2B — Robin Landrith, Shelby Friundberg, Sarah Smith, BU.
Kansas highlights — Taylor McElhaney 1-for-1, Briana Evans 1-for-2.