Originally published May 2, 2015 at 9:26 p.m., updated May 3, 2015 at 1:24 a.m.
Dexter McDonald sat in his family's Kansas City, Missouri, home Saturday watching the NFL Draft for the third day in a row.
The cornerback from Kansas University didn't start second-guessing himself necessarily as round Nos. 4 through 6 went by, but he ceded during Round 7 to the notion he might have to take the free agent route to achieve his dream.
Only 14 picks remained in the final round when Oakland made McDonald the 25th pick (242nd overall).
"It's definitely an intense feeling," the happy new Raider told the Journal-World. "You're just sitting there, and you think you're gonna get drafted. But you never know. It's one of those feelings where you're just wondering what you could've done differently."
Once McDonald and his family saw his name pop up on the TV screen, relief and joy overcame him, all at once. He almost forgot getting picked by Oakland meant he would remain teammates with Kansas linebacker Ben Heeney, selected earlier by the Raiders, in the fifth round.
"I was just happy my name got called," McDonald said. "After I sat there for about 30 seconds, it hit me."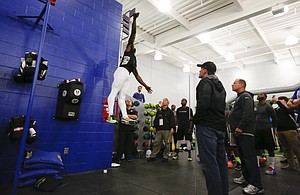 A physical, 6-foot-1 corner who picked off two passes, broke up 13 others and made 28 solo tackles his senior season at KU, his pro day put him in position to get chosen. McDonald stood out as NFL scouts watched in late March, with a 4.42-second 40-yard dash, a vertical jump of 40 and 1/2 inches and a broad jump of 11 feet, 2 inches. Those numbers, he said, kept him from going undrafted.
"I was able to show teams I was not only a tall corner, but athletic, as well," the 200-pound defensive back said. "I still think I was under the radar. I think I had great film, and once that was able to be looked at because of what I did at my pro day, that definitely helped me a lot."
A product of Rockhurst High in Kansas City, McDonald won't have to get rid of any Chiefs gear or sever any ties now that he is aligned with his hometown's rival Raiders. He didn't grow up as a fan.
"I probably went to one game at the Chiefs' stadium my whole life," he shared, noting Dante Hall and Priest Holmes were the main attractions at the time.
"It's definitely crazy being form Kansas City, and I know a lot of people are Chiefs fans that I grew up with," McDonald added, "and now they're gonna be rooting for the Raiders, because I play for the Raiders."
Had it not been for his stellar pro day, McDonald's path to playing in the NFL could've been even more difficult that it will as a seventh-round pick. But he said he'll approach things now with the same hunger.
"Even if I didn't get drafted, I was gonna prepare myself to make a team," he said. "I was determined."
— A previous version of this story included an incorrect height on McDonald's vertical jump.
---
More KU news and notes from NFL Draft
---