JaCorey Shepherd knew if he watched the NFL Draft, the anticipation alone would give him fits.
So when the Kansas University cornerback arrived back in his hometown of Mesquite, Texas, he decided the family would kick back, instead of focusing on his big moment. Dominoes, spoons, Yahtzee — you name it, the Shepherd clan played it, all in the name of distraction.
It almost worked, too.
"I tried not to watch it, but I peeped a little bit," Shepherd told the Journal-World. "I mean, most people kept texting me about it anyway, so I really didn't have to."
Then, Saturday afternoon, came the life-changing phone call. Philadelphia would take Shepherd with the 15th pick of Round 6.
He aspired to go in an earlier round, and as he heard via friends and family Friday night, ESPN draft guru Mel Kiper Jr. had the 5-foot-11, 199-pound corner in his top 10 available players during Round 3, long before the Eagles grabbed him.
Every time someone questioned teams passing on the ball-hawk defensive back who intercepted three passes and broke up 16 during his senior year, Shepherd reminded them: "That 40 time is big."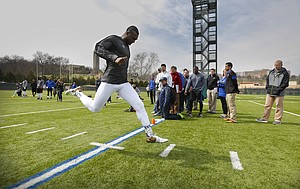 A torn left hamstring compromised the corner's ability to impress NFL scouts in drills leading up to the draft. When he completed the 40-yard-dash with times of 4.65 and 4.68 seconds at KU's pro day, they came three days after the injury, which happened as he trained on the strained hamstring.
"Now it's time to prove that my 40 time is not an issue," Shepherd said, adding he has run in the 4.4 to 4.3 range since he moved from receiver to corner his sophomore year.
The way the competitive corner sees it, he covered receivers in the pass-happy Big 12 without becoming a secondary turnstile. And the decision-makers in Philadelphia's war room agreed. Shepherd spoke with head coach Chip Kelly, defensive coordinator Bill Davis and defensive backs coach Cory Undlin on the phone after they picked him. He said they told him they loved how he played at Kansas, and they understood he slipped in the draft because of his injury.
Philadelphia had Shepherd in for a pre-draft visit, and the new Eagle hit it off with the DB coach.
"He was hoping that I stayed low-key, because he really liked me. He seen that I had game," Shepherd said. "He knew that teams would be worried about my hamstring, but that wasn't something he was worried about."
Undlin, Shepherd figured, could make a simple case for the KU product: "This guy can ball. He can help."
As for the hamstring, Shepherd estimates it's at 99.5 percent now. That's what Philadelphia betted on, and now the cornerback feels confident he'll arrive as a rookie who will compete for playing time.
"I'm ready for it," Shepherd said. "I'm ready to prove to all those teams that passed on me that they missed out on something that could've been good, just because of my hamstring."
First, though, he'll have to get back to Lawrence. The senior management and leadership major has a Monday morning test and presentations the following two days.
"I've definitely gotta finish strong in the classroom, man," Shepherd said. "I've worked too hard. I can't let that slip right now."
---
More KU news and notes from NFL Draft
---