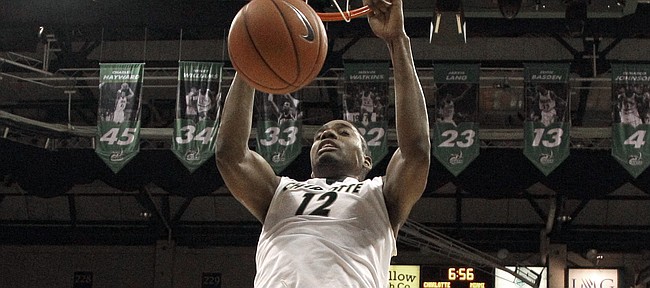 Kansas University basketball coach Bill Self on Thursday traveled to North Carolina to visit with Charlotte junior center Mike Thorne Jr., who plans to graduate in May and play his final season at a different school.
KU is one of a whopping 41 schools that have expressed interest in the 6-foot-11, 270-pounder since March 13 when Thorne's high school coach, Heath Vandevender of Fayetteville Trinity Christian, announced the transfer plans.
Graduate students are allowed to transfer and not sit out a season.
"I think so," Vandevender said, asked by the Journal-World if Thorne had a good visit with Self. "Coach Self is a great coach. Kansas is a top program. Anytime you get a call or visit from somebody like coach Self it's a big deal. A good system like that, of course Mike would be interested."
Thorne averaged 10.1 points a game off 53.4 percent shooting while logging 26.1 minutes a game in 32 games last season. He was 54 of 101 from the free-throw line for 53.5 percent. He grabbed a team-leading 7.3 rebounds a game and had 29 blocked shots.
"He's gotten better every year in college. He's gotten used to his body," Vandevender said. "He's sneaky athletic, has good hands and feet. He needs to improve from the free-throw line and interior defense. He definitely has a skill set in which he can play at the next level. He needs to be with somebody who will continue to develop that."
Vandevender said Pitt coach Jamie Dixon will visit Vandevender today with upcoming visits from coaches from Marquette, Illinois, Minnesota and Virginia Tech. Tech coach Buzz Williams has a prior relationship with Thorne, having recruited him when he was at Marquette.
In all, seven schools from the ACC have inquired about Thorne, as well as West Virginia, Arizona and Xavier. He graduates with a degree in sociology on May 9. He may not make any visits until after graduation.
"I would give it a couple weeks (for Thorne to have it all sink in), wait until the tournament is over, see what everybody has to say and eliminate those who don't meet his criteria," Vandevender said. "It's a very big decision with only one year left. He has aspirations of playing professionally whether NBA or somewhere else (after final collegiate season)."
KU, by the way, is recruiting one of Vandevender's current Trinity Christian players. Dennis Smith Jr., a 6-2 junior point guard, is ranked No. 4 in the Class of 2016.
Jackson update: Josh Jackson, a 6-7 junior shooting guard from Prolific Prep in Napa, California, has narrowed his list of schools to KU, Kentucky, Duke, Arizona, Louisville, Michigan State, North Carolina, UCLA and North Carolina State, Rivals.com reports. The Southfield, Michigan, native is Rivals' No. 1 player in the Class of 2016.
Howland meeting: New Mississippi State coach Ben Howland was to meet Thursday with prize recruit Malik Newman, 6-3 senior from Callaway High in Jackson, Mississippi, who is the No. 3-rated player in the Class of 2015. Newman's dad, Horatio Webster, is a former Mississippi State hoops standout. Newman is considering KU, Kentucky, LSU, North Carolina State, Mississippi State, Mississippi and others.
Brown update: Jaylen Brown, a 6-7 senior forward from Wheeler High in Marietta, Georgia, was arrested and charged Wednesday with two misdemeanor traffic violations, the Atlanta Journal-Constitution reports.
Brown, who averaged 28 points and 12 rebounds a game this past season, was charged with driving on a suspended license and also received a stop-sign violation.
"All he did was get a ticket for a stop-sign violation," Wheeler coach Doug Lipscomb told USA Today. "He didn't know he was driving on a suspended license. He was in an accident, they mailed the citation to his house, but his family had moved and didn't receive the notice, so his license was suspended. It wasn't that big a deal."
Brown, who is ranked No. 2 by Rivals.com, is considering KU, Kentucky, UCLA, Michigan, North Carolina, California, Georgia and Georgia Tech. He recently visited both Michigan and Cal.