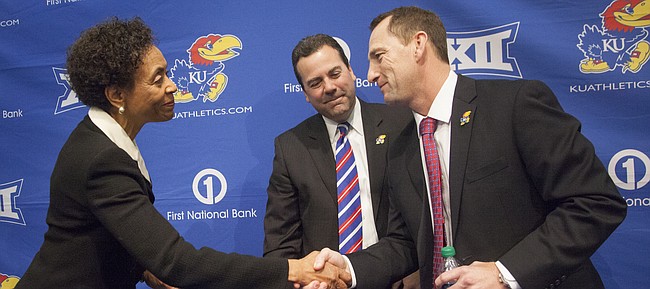 Kansas Athletics, Inc., and first-year Kansas University football coach David Beaty recently finalized Beaty's five-year contract and the details and language within it may be the best indicator to date that KU learned a valuable lesson from the failings of its past two contracts with dismissed football coaches Turner Gill and Charlie Weis.
According to a copy of the contract obtained by the Journal-World on Thursday, Beaty, at $800,000 annually, is scheduled to make significantly less than either Gill ($2 million) or Weis ($2.5 million) and the former Texas A&M; assistant coach signed a contract loaded with incentives.
Those incentives include everything from a $25,000 bonus for each Big 12 Conference victory to $100,000 for coaching KU to a bowl game, all the way up to a $500,000 bonus for guiding the Jayhawks to a victory in the Fiesta, Rose, Orange, Sugar, Peach or Cotton Bowl.
Beaty's base salary will be $225,000 and he will receive an additional $575,000 — totaling $800,000 — for what the contract terms "professional services." Such a salary structure is pretty common throughout college athletics, but one unique element included in Beaty's contract states that if KU were to have a winning season, the $575,000 compensation would increase to $675,000 for the remainder of the contract.
Like any contract, Beaty's agreement includes clear definitions of any infractions that may lead to him being fired with cause.
Should Beaty be fired without cause, as both Gill and Weis were before him, he would be owed compensation for "the number of full months remaining on the contract term or 24 months, whichever is less, in monthly installments."
In simple terms, should Beaty be fired without cause, before the end of his third season, KU would actually save money on his contract because that 24-month period would become relevant in the buyout.
In addition, Beaty's contract includes an "offset clause" which states that should he be fired without cause, the amount of compensation owed to him by KU would be reduced should he land another job.
Should Beaty be fired with cause, Kansas Athletics would only owe him compensation up to the point of his termination.
Should Beaty elect to leave KU before completing his contract, say for a new job, he would owe Kansas Athletics "an amount equal to two years of head coach's salary and professional services," roughly $1.6 million, at the time of termination.

In addition to the monetary incentives, Beaty's contract explains that he will be provided with two automobiles, life, medical and dental insurance policies, a suite for his family for home games, reasonable travel and lodging expenses for his family to attend road games and up to a dozen tickets to home and away football games. Beaty also will receive four season tickets to men's and women's basketball games at Allen Fieldhouse.
The contract, which runs through Dec. 31, 2019, became effective Dec. 8, 2014 — three days after Beaty was announced as KU's new coach — and was finalized and signed on March 13.