Former Kansas University women's basketball player Cheryl Burnett will be honored as a Missouri Sports Legend by the Missouri Sports Hall of Fame Saturday at the Ramada Oasis Convention Center in Springfield, Missouri, as part of the Women in Sports Luncheon.
Burnett, who was a four-year starter at Kansas from 1976-1980, went on to coach the Missouri State (then Southwest Missouri State) women's basketball team for 15 years and racked up 319 wins to just 136 losses, along with Final Four appearances in 1992 and 2001.
"Of course it is a wonderful honor, but very truthfully when I heard they were inducting our two Final Four teams, I had declined myself being an award winner because I wanted our teams to be first and foremost," Burnett said. "But the humility in me and the urging of the director of the Hall to do it all at the same time just made sense, I guess."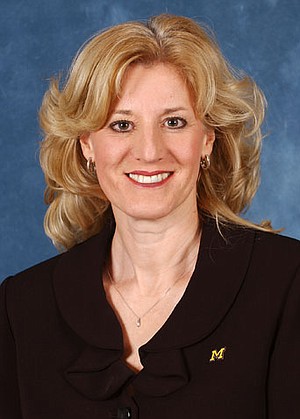 The former Bears' head coach was already enshrined into the Missouri Sports Hall of Fame in 2000, and will be honored as the 29th overall Missouri Sports Legend. The top highlight of the luncheon for Burnett will still be getting her Final Four teams back together.
"We have some kids from pretty far away and we have just a couple from each team who are not going to be able to come. We have kids coming in from Brazil, Los Angeles," Burnett said. "I think we probably would have been able to get every single one of the players. We have a wounded warrior (Kinga Kiss-Johnson) who is one of our alumni, she is representing the United States in archery for the paralympians and she's competing, so she doesn't get to come back."
Burnett's interest in the field of coaching started long before she arrived at Southwest Missouri State as an assistant in 1984.
"I had known that I wanted to coach ever since high school in those very, very early days of women's college basketball," Burnett said.
During her time as a student-athlete at Kansas, Burnett continued to develop a passion for coaching, as she was a volunteer on the Lawrence High girls basketball coaching staff. Burnett had two three-years stints as an assistant coach at Illinois and Southwest Missouri State before taking over the helm as the Bears' head coach in 1987.
One of Burnett's top mentors was long-time KU women's head coach Marian Washington. Burnett played under Washington with the likes of Lynette Woodard and Adrian Mitchell, and has been told that she was the first woman to ever receive a full-ride scholarship at Kansas.
"I've always said that it wasn't because I was that good. Certainly there were already players on that team: Adrian Mitchell, certainly Lynette Woodard a few years after me," Burnett said. "I always just felt that I was very lucky in how old I was compared to when scholarships were starting to be given."
Between playing with Woodard, who is the all-time leading scorer in women's college basketball history with 3,649 points, and coaching Missouri State alumna Jackie Stiles, the NCAA women's basketball all-time scoring leader with 3,393 points, Burnett is linked with two of the best to ever play women's college basketball (the NCAA did not govern women's college basketball until 1981).
Although injuries derailed Stiles' playing career, she has followed in Burnett's footsteps and gone into coaching. Stiles went into the coaching ranks in 2012 as an assistant at Loyola Marymount before returning to Missouri State as an assistant in 2013. Stiles' involvement in the program is one the reasons that Burnett is excited about the direction of Missouri State's women's basketball, which narrowly missed an automatic NCAA Tournament bid after losing to Wichita State in the Missouri Valley Conference tournament title game.
"The women's program at Missouri State is really taking some really great steps to get back to the NCAA Tournament," Burnett said.
Along with Burnett and the two Southwest Missouri State Final Four teams, former LPGA golfer Cathy Johnson and Patti Phillips, CEO of the National Association of Collegiate Women Athletics Administrators, will be honored Saturday. A bronze bust of Burnett will be unveiled to join other Missouri Sports Legends, such as George Brett, Stan Musial, Len Dawson and Lamar Hunt.