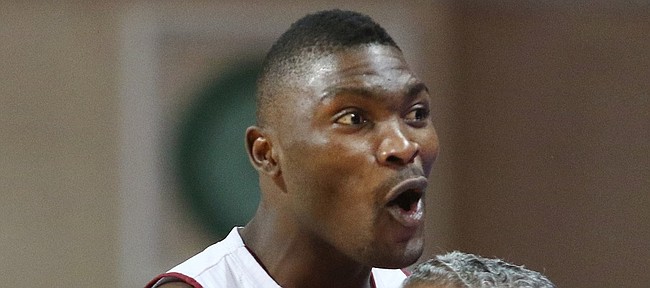 After a season full of injuries and ups and downs in its starting lineup, the New Mexico State men's basketball team finally started the same five guys in eight of its final nine games.
Three of the five players in that group were seniors, and as NMSU coach Marvin Menzies prepares his 15th-seeded Aggies for an 11:15 a.m. NCAA Tournament showdown with No. 2 Kansas on Friday in Omaha, Nebraska, the eighth-year head coach said he thought that kind of experienced roster could be one of the few advantages that the Aggies possess in their opening-round matchup.
"I'd much rather go in there with the group we have than five freshmen," Menzies said before pausing to qualify the statement. "Unless they were Kentucky freshmen."
That they are not. But they are the closest thing the Western Athletic Conference has to what the top-seeded team in the Midwest region brings.
The Aggies (23-10) won the WAC regular-season title by five games before cruising to a fourth consecutive conference tournament championship last week in Las Vegas. And Menzies said Monday that his four seniors, who will be playing in their fourth consecutive NCAA Tournament, played a huge role in leading his team through the injury-filled season.
Six-foot-eight forward Remi Barry, from Paris, France, was the only NMSU senior to start all 33 games this season. Six-foot-10 forward Tshilidzi Nephawne and 6-2 guard Daniel Mullings each missed 12 games. And 6-2 guard DK Eldridge played all 33 games but only made 25 starts.
A couple of key underclassmen, notably starters Pascal Siakam and Ian Baker, helped round out the Aggies' lineup, but Menzies said the team always leaned on its leadership.
"Philosophically speaking, I've always wanted to have upperclassmen in our program, even if it's just juniors," Menzies said. "If we get blown out by 40, it didn't help us too much. But I'd like to think (that kind of experience puts us) in a position to not be nervous and to feel like we've been there before, because we have."
That's the mindset Menzies expects his team to have when the ball goes up Friday morning. The former Rick Pitino assistant said he saw endless amounts of individual and team talent during his film study of the Jayhawks this week. He even went as far as to joke about it when he was asked if the Aggies' stiff zone defense could be considered a strength against the Jayhawks.
"Our strength against Kansas," Menzies repeated. "That's a separate question altogether. You might want to go back and ask, 'Do we have a strength against Kansas.'"
Having respect for one's opponent is often considered to be a strength in itself, and it's clear that Menzies and crew have the utmost respect for Bill Self and the Jayhawks (26-8).
"Their overall individual talent was the biggest thing," Menzies said. "And their ability to transition and finish in transition. There's a lot of things that jumped out. Their ability to pressure the ball. They really guard you. Man-to-man defense has always been one of Bill's signatures. There's some things I already knew about them. I just kind of reinforced them, unfortunately, when I was watching the film."
But because of his roster, as well as the teams they've played and the places they've been during the past few seasons, Menzies believes his team will have a shot. They proved that in an overtime loss to fourth-seeded San Diego State last season and again, four years earlier, in a three-point loss to Michigan State in the tournament's opening round.
"I'm not gonna out-coach Bill," Menzies said. "We're not gonna draw up any special play or do anything out of the box that's gonna have people ranting and raving about our coaching ability. We feel like we're pretty solid, and we do a good job, but it's gonna be about our seniors, if we're able to play a close game and make it really competitive and hopefully be in a position to do something late in the game. ... We'll go as far as our seniors take us."