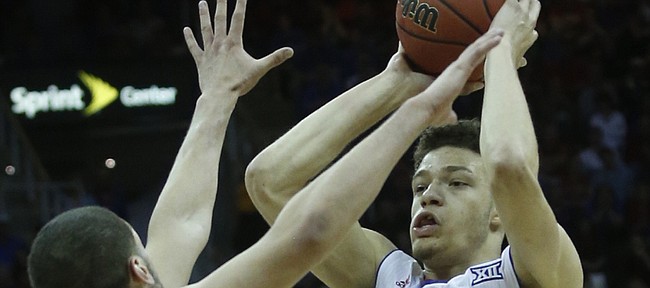 It's been more than three weeks since Kansas University sophomore Brannen Greene made more than one shot in a KU basketball game. And even in that game — a Feb. 23 loss at Kansas State — Greene knocked down a pair of two-pointers.
You have to go back another two weeks to find the last time Greene made more than one three-pointer — his signature shot — in a single game, and all of the talk about this many weeks and so few shots is the sure-fire sign that Greene has been in a slump.
He's not hiding from it. Last weekend, after the KU sophomore knocked down his first three-pointer in five games in a victory over Baylor in the Big 12 Conference semifinals in Kansas City, Missouri, Greene expressed how good it felt to finally see the lid come off the basket.
He made another from three-point range the very next night and left Kansas City hoping that the mini-slump would be a thing of the past.
So what does a guy like Greene do when mired in such a frustrating stretch?
"It's different," he said. "When I'm shooting around by myself in the gym then I do pay attention to how I shot it, where my elbow was, did I get enough lift, things like that. Pregame, I just go out there and shoot the ball.
"The biggest thing is to not let your mind wonder, 'How am I shooting it, is my elbow in, blah, blah, blah.' The main thing is just to have confidence and let the ball go. Shoot the ball. Shoot the ball."
Ah, yes. Keep shooting. That's the unofficial slogan of shooters everywhere and one that guys like Greene might as well have tattooed on their bodies somewhere. The reason is simple. But it goes beyond just having the mental fortitude to keep firing away.
"It's all about muscle memory," Greene said. "And if you just keep shooting and stick to your shot, eventually good things are gonna happen if you're a good shooter."
Greene knows. His 41 percent three-point season clip (38-of-93) — even with the recent slump — is proof that he can shoot the ball. And his potential to put up points in a hurry on a particularly hot night remains one of the biggest advantages the Jayhawks could have if Greene gets right. His teammates know that, and many of them have gone out of their way to keep Greene's head in a good place during his 4-of-28 struggle over KU's past nine games, a stretch that followed a 17-of-24 sizzle in the seven games before it.
"Brannen is a great player," said KU freshman Kelly Oubre Jr. "He's one of the most skilled players I've ever played with or against. When he's in a slump, I know it's not his game that's down, it's something in his head. So I just try to be there for him 100 percent. And he knows I'm behind him no matter what he does. He has more in him. He can do more and I know he will do more."
Added KU junior Jamari Traylor: "When you've got the mindset of a shooter, you've gotta think about the next one, you can't think about the misses, and he's been doing a good job of that."
Greene knows his teammates are behind him and he knows a slump when he sees one. Although the slumps he has experienced throughout his career — from high school to AAU and now college — have all come for different reasons — and, according to Greene, "none have lasted quite as long as this one — the KU sharp-shooter knows there's generally only one way out of them.
"When you're in a slump, you just gotta believe, because if you don't believe in yourself, no one else will," Greene said. "I know that's a little generic, but it's definitely true."
KU coach Bill Self spoke on a variety of topics on ESPN's Mike and Mike show on Tuesday.
— On the excitement of the tournament: "I think our young guys have got the bug. I know our returning guys do," Self said, not referring to the flu, but burning desire to play in the tourney. "We're so excited to have an opportunity to play in Omaha close with all our fans and a good New Mexico State team right off the bat. If we are able to advance ... what potentially lies ahead of us could be the most talked about game in the state of Kansas in many years," he added.
KU will meet N.M. State at 11:15 a.m., Friday, at Omaha's CenturyLink Center with the winner meeting Wichita State or Indiana on Sunday.
— Of Kentucky looming on the other side of the Midwest Regional bracket: "It's been fairly well documented and covered this year we actually played Kentucky. It seems about four years ago. It was the middle of November. Of course they manhandled us. They beat the crap out of us. It's been a reminder all year long to our fans and our players about what Kentucky did to us. ... I think in this particular deal, it'd be like, 'OK, if we could stay out of their region it'd probably be a positive,'" Self added, acknowledging it's a little "different" this year with such a prohibitive favorite in KU's regional. "Of course we've got a tough draw right off the bat with New Mexico State. Our guys are excited about it."
— On Cliff Alexander: "Everything is status quo (regarding his being held out as the NCAA looks into his eligibility). Landen (Lucas) has done a great job stepping up in his absence. I don't feel it's going to be a big factor for us whether we play well or not. Of course we'd love to have all our pieces, every team would. This particular situation ... guys are used to playing without him and adjusted to their roles and accepted them."
The Indianapolis Star put together its all-alumni teams in a search for the schools with the "coolest alumni."
KU was accorded a lineup of Wilt Chamberlain, Don Johnson, Clyde Lovellette, Paul Rudd and Bill James with a sixth-man listed as tie between Dean Smith, Adolph Rupp and Phog Allen.
New Mexico State's cool-alumni lineup consisted of Paul Wilbur Klipsch, Lou Henson, Alan Hale, Alvy Ray Smith, Rich Beem and a sixth man of Kenton Keith. The Star declared Kansas the winner in the second-round game, then a loser to Indiana in Round Three.
The Jayhawks will practice today in Allen Fieldhouse then leave for Omaha via bus about 1:30 p.m. KU will hold an open practice from 1:30 to 2:10 p.m., Thursday at CenturyLink Center.