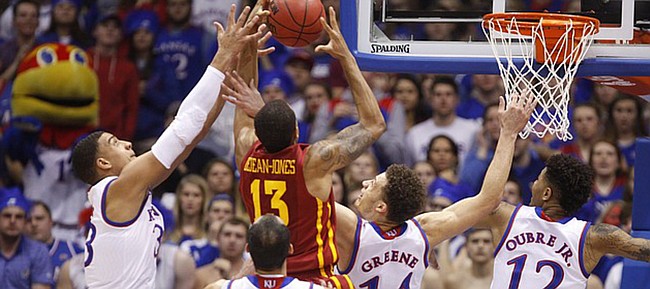 For the second season in a row, the Big 12 will send seven of its 10 teams dancing in the NCAA Tournament.
But 2004 marked the last time the conference had a representative other than Kansas University advance all the way to college basketball's showcase weekend, the Final Four.
"Jeez, we've gotta change that," Iowa State junior forward Georges Niang said, upon hearing Oklahoma State was the last league program to pull it off. "One of us does."
ISU, Baylor, Oklahoma, West Virginia, OSU and Texas all will do their part in trying to end the 10-year drought in the coming days and weeks. While Bill Self's Jayhawks, of course, are more concerned with finding a way back to the promised land by way of Omaha, Nebraska, as they did in 2008 and 2012.
Players from both Iowa State and Kansas — the two teams that survived to get to the Big 12 tournament championship game in Kansas City, Missouri, this past weekend — agreed the league prepared each tourney-bound team well for the madness of March.
"Definitely, the Big 12 is gonna represent in the tournament," KU freshman Kelly Oubre Jr. said. "We might even see another Big 12 member down the road."
Sure enough, Kansas (26-8) could face one as early as the Sweet 16, should both KU and Texas (20-13) advance to the Midwest semifinals, in Cleveland.
While some might doubt UT's ability as a No. 11 seed to make that happen, it wouldn't surprise Iowa State senior forward Dustin Hogue.
"I've been saying it all year. Texas, man, they're a sleeper," Hogue declared. "They'll be a scary team to run into."
Ranked No. 41 out of 68 teams by the tournament's selection committee, Texas was the last Big 12 team to earn a berth. Even the league representative that struggled most earned the respect of its peers. ISU senior guard Bryce Dejean-Jones had to stop and laugh at himself a little when asked to name Big 12 teams capable of advancing to the second weekend, because his list just kept growing.
"There's just so many good teams," Dejean-Jones said. "Pretty much everybody who's going to the tournament, I think, has a great chance."
Kansas sophomore guard Wayne Selden Jr. wouldn't go so far as to predict how many Big 12 teams would get to the Sweet 16 or Elite Eight. He just knows each one is feeling a little better now that the NCAA Tournament finally has arrived.
"It's a long season, playing against a lot of good teams," Selden said. "I think we're excited to get the chance to play against other teams."
Also, as Niang pointed out, programs from other leagues don't know the unique characteristics of each Big 12 team as well as their conference brethren do.
"I can definitely see the Big 12 making a real name for itself," Niang said. "A lot of teams will struggle to guard Kansas and struggle with West Virginia's press, or struggle to score on Baylor's zone, or even struggle to cover Oklahoma's guys."
The conference would love to experience some more Big Dance success coming up, because the past couple of tournaments turned out rather uneventful. Of the seven Big 12 teams that made it in 2014, just ISU and Baylor remained alive by the Sweet 16 — and both of their seasons ended there. The league had a 6-7 record.
That at least was better than 2013, when the Big 12 finished 3-5, with KU its lone Sweet 16 team.
The Cyclones might have made a deeper run last season had Niang not broken his foot in their tournament-opening win. That experience inspired Niang to get into better shape in the offseason, with the late-March grind toward something magical in mind.
As far as Hogue is concerned, this ISU team is capable of making it beyond the Sweet 16. So does that mean Iowa State will remain alive longer than any other Big 12 team?
"I'd like to think we'll go the furthest," Niang said, "but we'll have to see what happens."
Each Big 12 team at least should enter the tourney battle-tested. From the dynamic scoring of Buddy Hield, to the stingy Baylor zone, to the hot hand of Phil Forte III, to the havoc of WVU's pressure and the forest of UT's front line, they've seen it all.
Said Oubre: "Every night we played against a great team. March is gonna be interesting."
Big 12's Round of 64 matchups
MIDWEST
No. 2 Kansas vs. No. 15 New Mexico State
No. 5 West Virginia vs. No. 12 Buffalo
No. 6 Butler vs. No. 11 Texas
WEST
No. 3 Baylor vs. No. 14 Georgia State
No. 8 Oregon vs. No. 9 Oklahoma State
EAST
No. 3 Oklahoma vs. No. 14 Albany
SOUTH
No. 3 Iowa State vs. No. 14 UAB